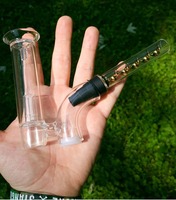 Glass Blunt Store - Twisted Glass Blunt Bubbler Kit
$45.95 ( .35 )
View Manufacturer Profile
Where to Buy
Description:
UNIVERSAL FIT - The Metal Mouthpiece Has a Better Draw, and it has Changing Diameter Along the Length to Fit any size Bubble Hole! Not just the 14mm ones!
SEALED CONNECTION - The Included Silicone Adapter will allow you to Never Lose Suction when using it.
The Long Tip allows for a More Secure Fit!
Infinite Burn Technology: Reduces the need for re-ignition, the finely engineered quartz
Kit includes: 1* Tube glass 1* Twisty blunt 1* Container 1* Silicone cover 1* Silicone mouthpiece adapter 1* Silicone band 1* Cleaning tool 1* Glass bubbler 1* Gift box
Additional Information