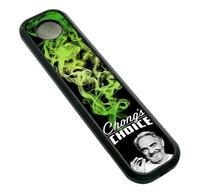 Genius Pipe - Chong's Choice Genius
$119.95 ( each )
View Manufacturer Profile
Where to Buy
Description:
As a part of our collaboration with Tommy Chong we are thrilled to introduce Chong's Choice Genius. Light and discrete this is the best pipe on the market that can produce smooth and cool draw without the bulk of a bong and a hassle of complicated cleaning. Available for pre-order is Chong's Choice Tester Edition. In this edition we experiment with Grinder slider, exclusively available only with Chong's Choice pipes.
A pipe from this edition is an instant collectible and will only grow in value over time.
Pre-Order yours now!
Super limited edition
Model: CC.Genius.4.20.17.001 - 420
Includes: One Genius TruTaste screen, Black Genius Grinder Slider, Original Genius Pouch. Ready-to-Use
Name: ?Chong's Choice Genius?
Release Date: 04/20/17
Version: 4.5
Additional Information