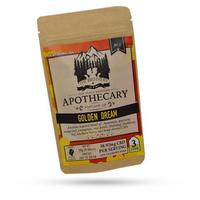 Fuggin Hemp - 40MG CBD INFUSED GOLDEN DREAM TEA 2 BAGS (3 TEA BAGS EACH)
$30.00 ( 2 Bags (3 Tea Bags E )
View Manufacturer Profile
Where to Buy
Description:
40mg CBD Infused Golden Dream Tea was formulated with bedtime in mind. Calming Chamomile meets bright and refreshing Spearmint, Orange Peel and Lemongrass. Lindenleaf and Hawthorn berry work to calm the nervous system as natural relaxants, ideal for meditation and/or settling the stomach.
Teas are handcrafted in Portland, Oregon.
Soothe the senses with these locally crafted hemp-CBD teas. Made in small batches with the highest quality ingredients.
CBD tea is delicious! Each flavor is uniquely blended & paired with powerful, therapeutic herbs.
The Brothers exclusively source from hemp-derived CBD sources in Oregon and have every blend batch tested to meet their rigorous standard.
Each order comes with 2 bags, 3 teabags in each bag.
THC: 0.3%