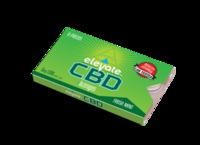 Fuggin Hemp - 3MG ELEVATE CBD LOZENGES (8 BOXES/CASE)
$119.92 ( Case )
View Manufacturer Profile
Where to Buy
Description:
3mg Elevate CBD Lozenges are a cooling, Fresh Mint flavored, CBD infused Breath Mint.
This is a case with 8 boxes, 8 pieces per box.
Directions for use: Freshen your mouth with cool, refreshing mint and your spirit with 3mg of CBD per lozenge. You├?┬?ll be tempted to chew, but just let them dissolve nice and slowly, instead. Your mouth will thank you!
Disclaimer: This product contains less than 0.3% THC.
THC: 0.3%