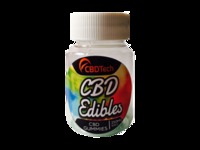 Fuggin Hemp - 25MG CBD SOUR GUMMY WORMS 10CT BOTTLE
$20.00 ( 10ct )
View Manufacturer Profile
Where to Buy
Description:
25mg CBD Sour Gummy Worms are taken orally and ingested into the body for a relaxing experience. Each gummy delivers a carefully pre-measured 25mg dose of CBD.
These delicious gummies are GMO free, organic and all natural.
Take one gummy as needed.
25mg per gummy.
10 gummies per bottle.
250mg per bottle.
Disclaimer: This product contains less than 0.3% THC.
THC: 0.3%