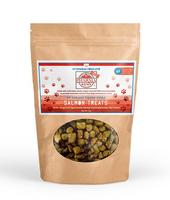 Fuggin Hemp - 150MG FREEZE-DRIED CBD SALMON PET TREATS 2-3OZ BAGS
$47.96 ( 2 -4oz Bags )
View Manufacturer Profile
Where to Buy
Description:
150mg Freeze-Dried CBD Salmon Pet Treats for cats and dogs. These treats are all-natural, sourced, made, and packaged in the USA from wild-caught Alaskan salmon. Freeze-dried from the raw state, and contain no added synthetics, vitamins or minerals Â? just pure, natural goodness..
2-3oz bags in each order.
Disclaimer: This product contains less than 0.3% THC.
Additional Information