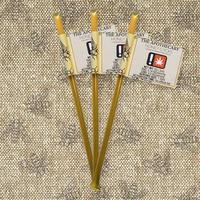 Fuggin Hemp - 10-13MG CBD HONEY & CBD COCONUT OIL STICKS (3 STICKS EACH/PA
$30.00 ( 1 pack )
View Manufacturer Profile
Where to Buy
Description:
10-13mg CBD Honey & CBD Coconut Oil Sticks are a perfect addition to your cooking and sweetening needs.
Each order contains 3 sticks of CBD Honey and 3 sticks of CBD Coconut Oil.
CBD Honey Sticks comes from locally sourced organic honey. Light & bright, this honey is perfect for any recipe and goes great with The Brothers CBD Infused teas.
Honey sticks are crafted with simple, high-quality ingredients for every batch of this stellar CBD sweetener.
THC: 0.3%