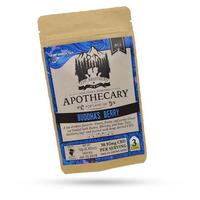 Fuggin Hemp - 40MG CBD INFUSED BUDDHA'S BERRY & MELLOW MINT TEAS 2 BAGS (
$30.00 ( 2 Bags (3 Tea Bags E )
View Manufacturer Profile
Where to Buy
Description:
40mg CBD Infused Teas are handcrafted in Portland, Oregon.
Soothe the senses with these locally crafted hemp-CBD teas. Made in small batches with the highest quality ingredients.
CBD tea is delicious! Each flavor is uniquely blended & paired with powerful, therapeutic herbs.
The Brothers exclusively source from hemp-derived CBD sources in Oregon and have every blend batch tested to meet their rigorous standard.
Each order comes with 2 flavors, 3 teabags in each flavor:
Buddha's Berry for day, Mellow Mint for night
THC: 0.3%