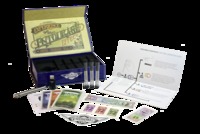 Discover CBD - VeedVerks Starter Vape Kit
$148.99 ( 1 )
View Manufacturer Profile
Where to Buy
Description:
Get in on this great deal and get started vaping CBD today! Our starter kit contains everything you need to experience the full range of the entourage effect including 3 pre-filled THC free cartridges.
150 mg CBD, 1.0 ml Indica
150 mg CBD, 1.0 ml Sativa
150 mg CBD, 1.0 ml Hybrid
Variable Voltage Slim Battery
Smart Charger
Cigar box with magnetic closure
Sticker pack
Already have a battery and just looking for the pre-filled cartridges? They can be found here.
Additional Information