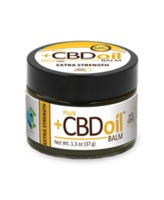 Discover CBD - PlusCBD Gold Extra Strength Cannabidiol Balm
$47.99 ( 1.3oz )
View Manufacturer Profile
Where to Buy
Description:
PlusCBD has released their new Extra Strength CBD oil balm. Specially formulated with 100mg Gold CBD oil and other ingredients that can be quickly absorbed by the skin and provide a smoothing moisturizing experience.
Description:
100mg of CBD in 1.3 oz container
Only Gold formula CBD oil used
No artificial dyes or fragrances
Soothing Peppermint scent
Do not apply around eyes or other sensitive body parts. External use Only. Apply topically as needed.
Additional Information