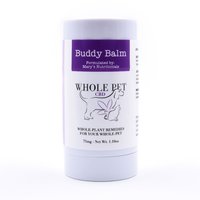 Discover CBD - Mary's Nutritionals Buddy Balm
$28.99 ( 1 )
View Manufacturer Profile
Where to Buy
Description:
Whole-Plant Products for your Whole-Pet
This balm is specially designed with your pet in mind. The Buddy Balm includes a special blend of essential oils in an easy no-mess applicator. Includes a total of 75mg of activated hemp extract.
Ingredients: Safflower oil, Shea butter, Beeswax, Jojoba oil, Vitamin E, Benzoin, Lavender Essential Oil, Holy Basil Essential Oil, Hemp Oil, and Love.
Instructions: Twist open cap and apply to your pet's skin as needed. Rub gently on animal's nose, paws, or other part of the body. Turn bottom to dispense more balm. Store at room temperature and avoid excessive heat.
Contains: 75mg of activated hemp extract.
Additional Information