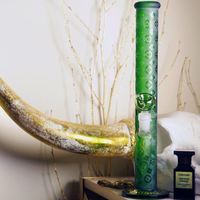 Daily High Club - LV PATTERN 15
$89.99 ( 1 )
View Manufacturer Profile
Where to Buy
Description:
Height: 15 Inches
Joint: 18/14 reduced 5.5" downstem
Joint size: 14 Female
This thick lv bong tube comes in green or clear with the lv print sandblasted on for a classy finish. The slitted downstem percolates the smoke for a smooth hit, and the ice pinch allow for even more cooling. Features a removable downstem to make cleaning simple.
Additional Information