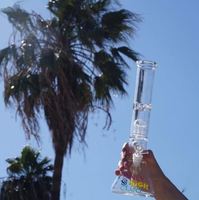 Daily High Club - DHC TREE PERC BEAKER BONG
$79.99 ( 1 )
View Manufacturer Profile
Where to Buy
Description:
Downstem: 18/14 reduced
Joint Size: 14mm Female
This is one of the largest bongs we've ever carried! Designed for smooth rips at every level, it has a removable 18/14 slitted downstem which bubbles up into the two tree percs in the neck. Above that is the ice-pinch for more optional cooling. This bong is compatible with thousands of 14mm add-ons!
Additional Information