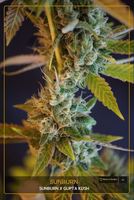 Colorado Seed Company - Sunburn
View Manufacturer Profile
Where to Buy
Sativa — Sunburn x Gupta Kush
Description:
Sunburn is an inspiring, strong, and high-yielding sativa that gives us one of our favorite combinations of inspiration and sustain. Dominated by Island Sweet Skunk√??s positive vibes, Sunburn tends towards an active, bright and adventurous user experience.
We took our favorite pheno of the original Sunburn and crossed it with Gupta Kush to increase strength and stability of its genetics. In the process, it also gained an earlier finish, which makes it a great outdoor sativa. It has a vigorous growth habit and a longer node length, so lots of multi-topping is key to increased yields within the canopy.
Crystally lime green buds reflect the Island Sweet Skunk genetics within.
THC: 24.0%

Flavor

ISLAND SWEET SKUNK

FUNKY KUSH ANCHOR
Effects

INSPIRATION

SUSTAIN