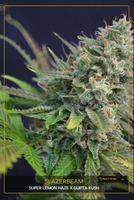 Colorado Seed Company - Slazerbeam
View Manufacturer Profile
Where to Buy
Sativa — Super Lemon Haze x Gupta Kush
Description:
We took the famed Super Lemon Haze from Greenhouse Seeds and crossed it with the Gupta Kush to increase its growth habit and yield.
The resulting Slazerbeam creates succulent, crystal-packed buds that lean more towards the Super Lemon Haze structure and node length. Slazerbeam is dominated by the sweet lemony zest of the maternal line, though the lingering notes of the OG Kush come though in many plants. A very strong sativa buzz is grounded by OG Kush roots.
Slazerbeam has a very strong veg growth and appreciates a bit of extra micronutrients in mid flower. Some of the short phenos finish in the seventh week and can be a little slow to root, so be careful not to overwater after transplant. The taller pheno loves topping from an early age to increase bud sites.
THC: 21.2%

Flavor

SWEET LEMONY ZEST

LINGERING NOTES OF THE OGK
Effects

VERY STRONG HERB

SATIVA BUZZ GROUNDED BY OGK ST