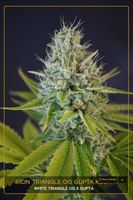 Colorado Seed Company - Iron Triangle OG Gupta Kush
View Manufacturer Profile
Where to Buy
Hybrid — White Triangle OG x Gupta Kush
Description:
Though the genetics of the White Triangle OG is a bit of a mystery, itÃ??s great herb. Our cut was a bit finicky so we crossed it with our Gupta Kush which brought us to Iron Triangle.
Potent and delicious, the nose and taste are a very traditional fuely, lemony, kushy zest. ItÃ??s brighter and less vegetative smelling than Ghost OG, with more of a San Fernando zippiness. The high is a deep, stunning body buzz coupled with a transcendent head high.
With much heavier yields than its parent strain, Iron Triangle has a kushy growth style with lime green buds and high crystal. We advise extra castings in the soil or a nitrogen boost in mid-flower, with lots of topping for the best yields.
THC: 28.0%

Flavor

FEULY-LIMONY KUSHY ZEST

BRIGHTER AND LESS VEGETATIVE S

SAN FERNANDO ZIPPINESS
Effects

DEEP, STUNNING BODY BUZZ

BRIGHT, TRANSCENDENT HEAD HIGH