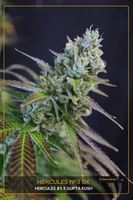 Colorado Seed Company - Hercules #3 BX
View Manufacturer Profile
Where to Buy
Hybrid — Hercules #3 x Gupta Kush
Description:
We selected this Hercules phenotype for its outstanding veg stature, wonderful smell and strong high. We backcrossed it to the Gupta Kush which created a truly oily kush-monster.
This Hercules back-cross has a mostly uniform growth habit, thick, oily, Ghost OG Moonshine style buds and hints of its Hawaiian ancestry on the nose. Though a sativa, the buds are deep green, swollen and kushy.
Increase production by topping heavily.
THC: 23.0%

Flavor

OG KUSH

HAWAIIAN OVERTONES
Effects

VERY STRONG SATIVA-LEANING HYB

HEAVY SUSTAIN