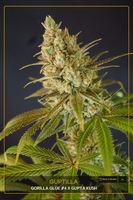 Colorado Seed Company - Guptilla
View Manufacturer Profile
Where to Buy
Hybrid — Gorilla Glue #4 x Gupta Kush
Description:
Guptilla is our super potent indica-leaning hybrid cross of Gorilla Glue #4 and Gupta Kush. The onset is fast and the experience and duration are both significant Ã?? very strong herb for a focused high.
Keeping all the good from Gorilla Glue, we increased THC and added weight and density. Buds are larger and thicker than the original Glue, with a density reminiscent of OG Kush. Guptilla is a prolific grower, with even node spacing and a strong, upright Gupta-like growth pattern.
Leave it in veg for longer and multi-top for best yields.
THC: 29.0%

Flavor

FUNKY HOT GARBAGE STINK

CLASSIC OG KUSH NOTES
Effects

SUPER POTENT

LONG, STRONG, FOCUSED HIGH