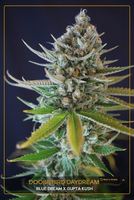 Colorado Seed Company - Doobiebird Daydream
View Manufacturer Profile
Where to Buy
Hybrid — Blue Dream x Gupta Kush
Description:
The legendary Blue Dream. A strain that has given so much to so many gardeners. We have so much love and respect for this strain that we couldn√??t help but breed with it.
By crossing it with Gupta Kush, we produced a strong, heavy and long-lasting smoke emanating from highly productive and easy growing plants. A soothing blend of blue-haze and kush tones, the taste can sometimes be fruit-loopy.
The buds are lime green, succulent, and covered in trichs √?? heavy and oily from the Blue Dream side, but rounded out and trich-dusted by the Gupta Kush side. Workhorses.
THC: 22.0%

Flavor

BLUE-HAZE AND KUSHTONES

ALMOST FRUIT-LOOPY
Effects

STRONG, HEAVY, LONG LASTING HI

NOT MOTIVATING BUT DEFINITELY