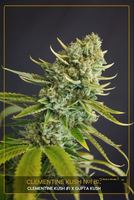 Colorado Seed Company - Clementine Kush #1 BX
View Manufacturer Profile
Where to Buy
Hybrid — Clementine Kush #1 x Gupta Kush
Description:
Our Clementine Kush #1 was a very tight, kush-budded plant with a pure orange nose. When we backcrossed it with the Gupta, the outcome was a surprisingly productive little kushy beast.
Expect big, dense, thick buds and a swollen kush-bud structure with nice even nodes and growth habit Ã?? top heavily for more bud sites. Many variations in smell ranging from OG to orange peel.
Strong with a grounded keel, the high is perfectly hybrid.
THC: 21.0%

Flavor

KUSHY

LIGHT ORANGE
Effects

STRONG HYBRID HIGH

EVEN GROUNDED KEEL