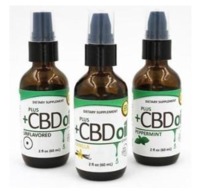 Bhangers - PlusCBD Extra Virgin Olive Oil (EVOO) CBD Spray
$20.95 ( each )
View Manufacturer Profile
Where to Buy
Description:
Plus CBD Oil Extra Virgin Olive Oil (EVOO) Spray is a new formula created to be more palatable.
Plus CBD Oil (EVOO) Spray
undergoes a process called decarboxylation (a gentle heating process), in which most of the remaining CBDA is converted in CBD to maximize the concentration of CBD. After decarboxylation, along with many of the cannabinoids, terpenes, plant sterols, vitamin E, and other natural plant materials comprise Plus CBD Oil's Total Plant Complex concentrate.
Order Now:
Plus CBD Oil (EVOO) Spray
Additional Information