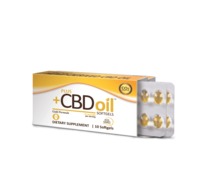 Bhangers - Plus CBD Hemp Oil Softgels
$19.95 ( each )
View Manufacturer Profile
Where to Buy
Description:
Introducing Plus CBD (CV Sciences) Hemp Oil Softgels - Designed to pack a powerful punch. These portable, easy to swallow, softgel capsules travel with you wherever you go. They quickly and easily absorb even on an empty stomach. Be prepared for any situtation where a quick boost of CBD will help.
Great if you're always on the go, these everyday CBD-rich hemp oil capsules travel with you and can be taken at any time.
Go:
Plus CBD Hemp Oil Softgels
Because your health is important, Bhangers only sells products from the nation's top rated vendors.
Additional Information