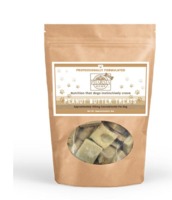 Bhangers - Pharma Hemp Peanut Butter Dog Biscuits
$22.95 ( each )
View Manufacturer Profile
Where to Buy
Description:
Each biscuit contains 4mg hemp CBD. One 4oz bag containing approximately 25 treats. Suggested Use: 1-2 biscuits daily. Ingredients: Peanut Butter, Sorghum Flour, Eggs, Fruit Fresh, CBD Hemp oil. Contains no GMOs.
Contains full spectrum hemp oil with CBD, CBG, CBN, and CBDA.
Go:
Pharma Hemp Peanut Butter Dog Biscuits
CBD for Pets
You want your pet to maintain his/her health and vitality for as long as possible.
Additional Information