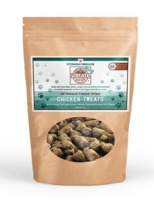 Bhangers - Pharma Hemp CBD Freeze-Dried Pet Treats
$11.99 ( each )
View Manufacturer Profile
Where to Buy
Description:
Offered in 3oz and 1oz bags,
Pharma Hemp CBD Freeze-Dried Pet Treats
contains full spectrum hemp oil with CBD, CBG, CBN, and CBDA.
CBD for Pets
You want your pet to maintain his/her health and vitality for as long as possible. International studies suggest that natural phytocannabinoid oil may be beneficial for a number of issues, such as inflammation, seizures, anxiety, generalized pain, and nausea.
Go:
CBD Freeze-Dried Pet Treats
Additional Information