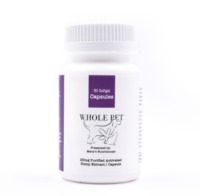 Bhangers - Mary's Whole Pet Capsules
$75.00 ( each )
View Manufacturer Profile
Where to Buy
Description:
Great for maintaining and improving skin and coat as well as overall health. Serves as an alternative to the tincture application method.
Mary's Whole Pet product line was created by Mary's Nutritionals and is among the first companies to introduce an animal-focused hemp infused product back in 2015. In late 2017, they relaunched and now offer a variety of full spectrum help infused products for pets.
Mary's Whole Pet CBD Capsules
/ 30 Capsules, 25mg each
CBD for Pets
You want your pet to maintain his/her health and vitality for as long as possible.
Additional Information