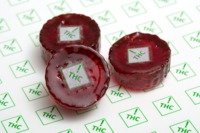 Baked Smart - #50534 1" Targets - CO Symbol - Green (3,840 targets)
$90.00 ( each )
View Manufacturer Profile
Where to Buy
Description:
20 - 12"x17" sheets
Targets per sheet: 192 - 1" targets
Best used on baked goods such as cookies, brownies, and cupcakes. Can withstand high heat. Works well on finished product - adheres with moisture. White background will show on finished product.
Made in the USA and Orthodox Union Kosher Certified.