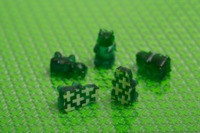 Baked Smart - #50529 .25" Green Cross Transfers - 12"x17"
$70.00 ( each )
View Manufacturer Profile
Where to Buy
Description:
20 - 12"x17" sheets
Best used for sticky or tacky foods (chocolate, gummies, hard candies). Cannot withstand temperatures higher than 150 degrees F. Works well with finished product.
Made in the USA and Orthodox Union Kosher Certified.