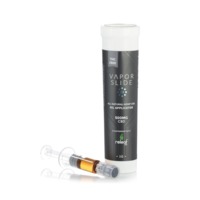 Vapor Slide - Vapor Slide CBD Distillate Oil
$34.99 ( 1 )
View Manufacturer Profile
Where to Buy
Description:
Eat it, Dab it, Vape it! our new counter culture Vapor Slide line is perfect for anyone looking to get there daily dose of CBD with real Cannabis and Botanical terpene blends.
Ingredients: 100% Hemp Derived Cannabidiol (CBD), Proprietary Blend of Natural Terpenes, Natural Flavors.
CBD Amount: 500mg CBD per applicator
Use: Varies based on preference. Check with any hardware manufacturer for instructions on using oils properly with their product.
*Great for cold infusion with culinary products.
Flavors: Mowie Wowie, Mint Cookie, Pineapple Express, Blueberry Dream
Other Facts:
THC Free
Lab Tested
Batch Tracked (Learn More)
Additional Information