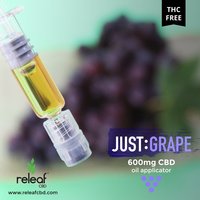 Vapor Slide - Honey Whipped - Easy Oil Applicator
$60.00 ( 500mg CBD per applic )
View Manufacturer Profile
Where to Buy
Description:
Our CBD Honey Whipped easy applicators are perfect for infusing with culinary products, taking directly by mouth, refilling cartridges and a host of other uses. The name "Honey Whipped" comes from our formula which creates a creamy-like texture and reduces the mess associated with typical oils (Does NOT contain actual honey). CBD Honey Whipped contains zero THC and is ships to all 50 US States.
Ingredients: 100% Hemp Derived Cannabidiol (CBD), Proprietary Blend of Natural Terpenes, Natural Flavors. THC free.
CBD Amount: 500mg
Dose/Servings: 10mg / 60 per applicator
*Serving size may vary. Consult your physician for proper dosing.
Flavors Available: Just Grape, Chocolate Thai, Tangerine Dream, Strawberry Cream
Additional Information