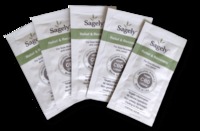 Kaliber Health - Travel Pack - CBD Relief & Recovery Cream by Sagely Naturals
$9.95 ( 1 )
View Manufacturer Profile
Where to Buy
Description:
Great for traveling or on the go! Just stick a couple of these in your purse or pocket and your set for whatever might come your way. Packed with CBD, essential oils, and cooling menthol, this a travel pack of the original 4oz bottle of Sagely Relief & Recovery Cream.
Helps tired, stressed, or fatigued muscles and joints. It combats discomfort, leaving you feeling more comfortable, relieved, and ready to live your fullest life.
Our original formula was created by PhD chemists, in state of the art facilities and with premium hemp, made only in the USA.
Key Ingredients
Cooling: Peppermint & Menthol
Coconut oil: Moisturizing, rejuvenating
CBD: to relieve minor aches and pains
Additional Information