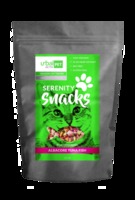 Kaliber Health - CBD Cat Treats
$17.95 ( 1 )
View Manufacturer Profile
Where to Buy
Description:
Because your cat deserves a happy, healthy life too!! These proprietary snacks are designed to enhance the powerful effects of CBD for your kitty.
We use home-made recipes, baked fresh in their kitchens using organic whole food ingredients. Naturally delicious treats, developed for your pet to support a happy healthy life. These treats are 100% organic, Soy FREE and Gluten FREE. These cat treats are Albacore Tuna Fish flavored so you know your cat will love them!
What's Inside:
40 cat treats per bag and a total of 40 mg of CBD per bag.
Ingredients: Albacore Tuna, Oat Flour, Extra Virgin Olive Oil, Cannabidiol (CBD), Abscorbic Acid, Mixed Tocopherols and Other Natural Preservatives
Additional Information