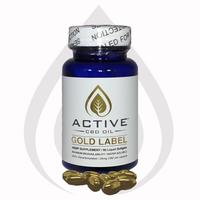 Kaliber Health - Capsules of Active CBD Oil
$79.95 ( 30ct - 750MG/Bottle )
View Manufacturer Profile
Where to Buy
Description:
Water Soluble, Gold Label" Formula: Simply the best CBD oil capsules currently available ANYWHERE! 25mg of CBD per gel capsule. Liquid "water-soluble" gel capsule formulated for maximum bioavailability + MCT oil!
Easier to swallow
Dissolves faster
Industry leading true bio-available technology
Maximum bang for your buck!
Active CBD oil is a Hemp Oil derived from specially bred Industrial Hemp plants with a high CBD content. The Hemp is grown organically and CO2 extracted. It contains all the synergistic Cannabinoids, Terpenoids, Essential Oils and other compounds of the original plant.
These capsules are great for ease of consumption with no taste for a controlled dosage.
A 60 capsule container of Active CBD oil contains 1500 mg of cannabidiol extract in a "High CBD hemp oil" formula.
Additional Information