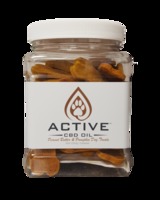 Kaliber Health - Active CBD Oil Dog Biscuits
$39.95 ( 1 BOX - 50 TREATS )
$109.95 ( MEGA BOX - 150 TREAT )

View Manufacturer Profile
Where to Buy
Description:
Biscuits for Dogs - 2.5mg Organic & Gluten/Soy Free
Active CBD oil's proprietary snacks are designed to enhance the powerful effects of CBD for your pet.
Active CBD oil uses exclusive recipes, baked fresh using organic whole food ingredients. Naturally delicious treats, developed for your pet to support a happy healthy active life.
100% Organic ingredients
100% Soy Free
100% Gluten Free
Zero THC
50 Biscuits Per container or 150 Discounted Mega Box
2.5mg CBD Per biscuit
Manufactured and packaged in Commercially licensed food kitchens
Ingredients: Oat Flour, Organic Pumpkin Puree, Peanut Butter, Eggs (Farm Fresh), CBD, Salt, Mixed Tocopherols and other Natural Preservatives.
Additional Information