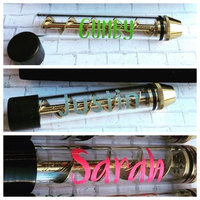 Glass Blunt Store - Custom Twisted OG Edition
$39.95 ( .35 )
View Manufacturer Profile
Where to Buy
Description:
Rolling a blunt will never be the same again! Easily pack up to 2 grams of herbal flower into the glass tube and twist the screw counter-clockwise into the tube. After that, all you need to do is light the end and puff, puff, pass. To ash your herbs, simply twist the screw clockwise and the ash will get pushed out the glass leaving fresh herbs for your next session.
contains 1 twisted insert and 1 Quartz tube with a permanent custom name decal in the color and font of your choice. Please see the pictures to choose Font Selection.
Colors available:
Black, Grey, Metallic Sliver, Brown, Tan, Metallic Gold, Light Purple, Dark Purple, Royal Blue, Blue, Sky Blue, Mint, Dark Green, Green, Light Green, Orange, Yellow, Red, Hot Pink, Light Pink and White.
Additional Information