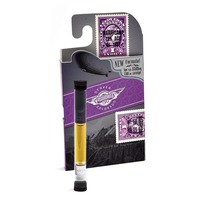 Discover CBD - VeedVerks - 150 mg CBD Vape Pen Cartridge (terpene infused)
$48.99 ( 1 )
View Manufacturer Profile
Where to Buy
Description:
Time to celebrate! We have been looking for a CBD vape cartridge that was worthy of selling on DiscoverCBD.com and we have finally found it.
150 mg CBD
Pre-filled, convenient cartridges
THC-free
Naturally flavored with cannabis derived terpenes
Requires a battery (sold separately)
510 threading compatible
There are 3 different 150 mg cartridges to choose from or a starter kit:
Indica: The taste of the Indica cartridge is floral with earthy undertones and notes of wood. Indica strains are known for their relaxing effects so this is something definitely worth trying before bed!
Sativa: The aroma and taste are predominantly citrus zest, pine, and floral and are favored by those that like to stay energized or creative all day.
CBD: 150.0mg