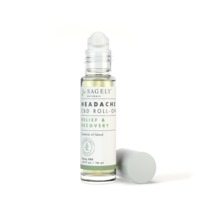 Discover CBD - Sagely Roll On
$28.99 ( 1 )
View Manufacturer Profile
Where to Buy
Description:
Packed with CBD, essential oils (Peppermint, Rosemary, and Eucalyptus), and cooling menthol, Sagely Naturals Relief & Recovery Headache Roll-On provides relief from occasional or temporary headaches.
Our original formula was created by PhD chemists, in state of the art facilities and with premium hemp, made only in the USA.
Key Ingredients
CBD, Peppermint & Menthol, Rosemary Oil, Eucalyptus Oil
How to Use
Apply to temples, neck, and forehead as soon as head or neck discomfort strikes for soothing relief. Apply to shoulders for extra cooling and relaxation.
Additional Information