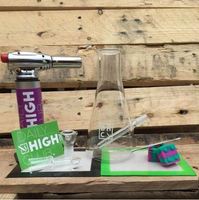 Daily High Club - DHC ULTIMATE CONCENTRATES KIT
$59.99 ( 1 )
View Manufacturer Profile
Where to Buy
Description:
Everything you need to enjoy the world of concentrates! Smoke with precision using our flagship piece, a custom made scientific glass beaker! We contracted an actual scientific glass company to make this thick 7" beaker with a 14mm fused glass downstem and 4 diffusion slits. Compatible with thousands of 14mm add-ons!
Kit Includes:
DHC Scientific Beaker
14mm Dome
14mm Nail
Concentrates Pick Tool
Silicon Non-Stick Jar
Torch (with removable stand)
WHY GO QUARTZ?
If you plan to use concentrates often, quartz bangers offer a far superior lifespan, and flavor than glass nails, have better heat diffusing for better rips, and hold heat longer.
Additional Information