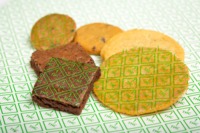 Baked Smart - #50738 .50" CO Symbol Sheets - 12"x17"
$90.00 ( each )
View Manufacturer Profile
Where to Buy
Description:
20 - 12"x17" sheets flood pattern of Colorado Universal !THC symbol.
Best used for baked goods such as any type of bar (brownie, blondies, lemon bars, etc.). Can withstand high heat. Works well on finished product Â? adheres with moisture. Bakes with a white background.
Made in the USA and Orthodox Union Kosher Certified.