The use of CBD (cannabidiol) has been and will continue to be a predominate feature of Florida's medical marijuana program. The use of CBD has been legal in Florida since 2014. Florida Governor Rick Scott signed senate bill 1030 into law in 2014, which allowed medically qualified patients with a written doctor's recommendation to get access to CBD oil as treatment for debilitating conditions. Under this low-THC law, patients were (and still are!) able to possess cannabis oil that contains 10% or more CBD as long as it contains no more than 8/10ths of one percent of THC (Tetrahydrocannabinol). While this law is still in place for patients that need access to CBD under the age of 18, Amendment 2, Florida's Medical Marijuana Initiative, will continue the use of CBD for medical patients. The role of CBD is understood statewide, and this cannabinoid is appreciated for its medical benefits more so than THC for the initiative's qualifying conditions. Here's what we found out on Florida's low-THC law, and how the use of CBD will continue to be a predominate feature of Florida's medical cannabis program.
What is CBD?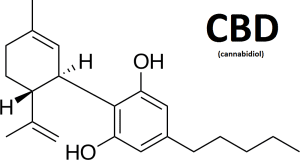 CBD is the one of the better-known cannabinoids and it has more health benefits than most other cannabinoids. For this reason, strains high in CBD are highly sought after in dispensaries across Colorado and anywhere medical marijuana is sold, including Florida. Most products sold in dispensaries are enhanced with CBD because it will enhance the effects of other cannabinoids as well as provide a nice body buzz when taken internally.
CBD is an excellent anti-inflammatory and has antibacterial properties, but it's great as an appetite enhancer and pain reliever and muscle relaxer. It also prevents tumorous cells from growing and can effectively reverse the effects of cancer. CBD is also good for your blood, as it prevents cholesterol from clogging your arteries.
CBD taken topically can treat eczema and psoriasis. It's also an excellent neuroprotective cannabinoid that can ease anxiety and help you keep a level head. Like THC-V, it can lower your blood sugar levels and reduce seizures and convulsions. Last but not least, CBD is great for digestive help, as it prevents your small intestines from cramping and reducing nausea and vomiting. CBD is also used to treat Dravet syndrome, better known as Epidiolex.
Florida's Low-THC Law
As per the Compassionate Medical Cannabis Act of 2014 — Senate Bill 1030, signed by Governor Rick Scott, on June 16, 2014 — licensed Florida physicians may order low-THC (less than 1%) or CBD cannabis oil for patients who meet the State's requirements. It's mostly for people suffering from terminal conditions, or conditions like cancer, seizures, muscle spasms, and people who suffer from the symptoms of cancer, or any other physical condition that produces chronic symptoms of severe seizures and muscle spasms. This program is designed for people who don't qualify for the medical marijuana program, but still need to receive treatment, typically children and teenagers suffering from terminal diseases that are under the age of 18.
When this legislature passed and Governor Rick Scott signed the bill into being, it was initially seen as an attempt to exempt certain individuals with medical problems from criminal penalties for using and possessing low-THC cannabis that was ordered for them by their doctors. After this initial round in 2014, there was an improvement to the law in 2016, which allowed the terminally ill patients to access all forms of medical marijuana, more on that later.
Patients with cancer or a "physical medical condition that chronically produces symptoms of seizures or severe and persistent muscle spasms" may qualify for the program if there is no other alternative treatment option that will get the job done satisfactorily. Terminally ill patients must have marijuana recommended by two doctors instead of one, one of whom must be a specialist for their specific condition. The patient must have also considered all other FDA-approved treatment options and give written, informed consent. Minors can be given the CBD-oil as a medical treatment, but they cannot use it on or near school grounds.
If you want to become a patient in this program, or you think your child may qualify, here's what you need to know:
You must be a Florida Resident with a valid Florida I.D. as proof of residency. If you do not have a Florida I.D. an out of state I.D., passport or other photo I.D. with proof of residency such as bank statement, utility bill, etc. is acceptable. Patients, or their legal guardian, are required to provide the physician with written informed consent. All patients will be registered with the Compassionate Use Registry, by the ordering physician, who MUST enter the patient's order, for low-THC cannabis.
Amendment 2
Patients in Florida diagnosed with one of the following "debilitating medical conditions", are afforded legal protection under the Florida Medical Marijuana Legalization Initiative, as per Amendment 2. The Medical marijuana amendment won't cover all health ailments, but the few that have been clearly detailed and defined as acceptable conditions required to apply for a medical marijuana card are as follows:
– Cancer
– Epilepsy
– Glaucoma
– HIV/AIDS
– PTSD (Post Traumatic Stress Disorder)
– ALS (Lou Gehrig's Disease or Amyotrophic Lateral Sclerosis)
– Crohn's disease
– Parkinson's disease
– Multiple Sclerosis
– OR any other ailment or condition of the same severity or similar symptoms that when determined by a physician's opinion that the medical use of marijuana would surpass any potential health risks.

There are, however, a few other conditions not detailed. The amendment leaves the doctors the chance to prescribe medical marijuana. Any disease they see as related to the above, or are considered debilitating by the doctors will be allowed to receive marijuana as treatment. If the doctor feels that the potential risks of smoking marijuana are nothing in comparison to the benefits the patient will receive, they will qualify for Florida medical marijuana.
Florida and CBD
Now that you have the low-down on the laws, it's important to take a look at how CBD will be such a core component of Florida's medical marijuana program. If you take a look and compare the two programs, you'll notice that really the expanded marijuana program is still based on patients who NEED marijuana, not for those who want it.
For example, the new plan includes PTSD, but it doesn't include anxiety or depression which are just as debilitating for most as a physical condition, and the reason is that Florida's health department isn't sure whether or not marijuana can treat these conditions. Mental health conditions are usually treated with THC more than CBD.
It's a proven scientific fact that CBD can treat a wide variety of chronic conditions, so Florida is sticking with this program, but allowing a little more wiggle room. As it currently stands, there are over 200 licensed doctors in Florida who are qualified to prescribe medical marijuana. Patients are eagerly waiting to see the doctor's and get the help they need. On January 3rd, Amendment two officially rolled out in the sunshine state, and 5 dispensaries have opened.
The good news is that while the program is regulated to the point where it's almost a little bit annoying, people will be getting the help that they truly need from these 5 dispensaries with the help of the cannabinoid CBD.