What 420 Looked Like in Three Cannabis-Friendly States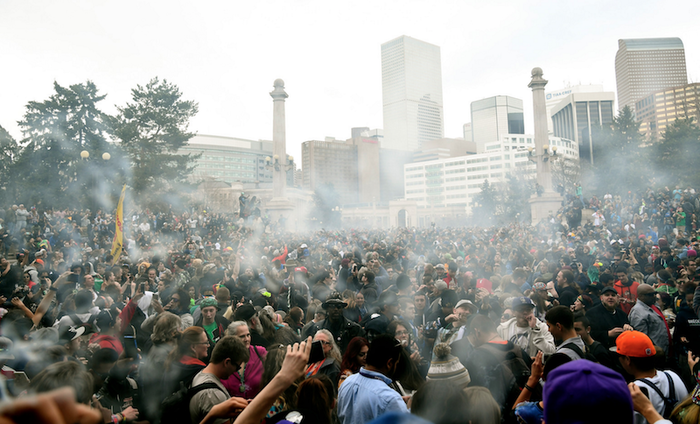 As more states and citizens embrace marijuana legalization, 420 deals and festivals are becoming a national celebration. States including California, Massachusetts, Maine, and Nevada ushered in recreational usage in the November 2016 election cycle. Other states are decriminalizing the possession of small amounts of marijuana, fostering a more liberal and open marijuana political landscape. Even the tumultuous first months of the Trump presidency haven't dissuaded marijuana advocates and activists from celebrating – or using – the herb.
April 20, 2017, was a culmination of cannabis creativity and celebration for some states, while others noticeably forgot to go green. No matter the state of the political landscape, the states that already won their marijuana legal victories celebrated the high holiday with enthusiasm. Here's our round-up of three standout states that celebrate 4/20 with flair, fun, and plenty of pot.
A state as large and versatile as California is sure to have a veritable range of diverse 4/20 celebrations throughout the state. Northern Californians flocked to Hippie Hill in Golden Gate park in the first city-sanctioned party for pot. CBS 2 San Francisco notes that a group of Haight Street merchants fundraised money for the event and to apply additional security, exits and entrances, and new rules. Inspired by the inevitable "green rush" that is overtaking the sunshine state, Curbed reported that a variety of ganjapreneurs came in food trucks, booths, and stands to please the marijuana-infused masses. It was estimated that 15,000 people stopped and smoked at Hippie Hill on 420.
Down south, different Los Angeles organizations and businesses offered high-inspired activities. The historic Wiltern theatre at Wilshire Blvd and Western played Half Baked, a cinematic stoner classic that stars Dave Chapelle, Jim Breuer, and Neil Brennan. For more information about California's 4/20 celebrations, check out our blog post "10 Events Happening in California for 420" and "3 Not-to-be-Missed San Francisco Cannabis Events."
The Centennial State had a rich collection of 420 events this year for local cannabis enthusiasts and tourists alike. First, music, art, and cannabis culture banded together for Denver's 420 on the Block. The multi-venue event showcased live music and entertainment at Vinyl, Church, Bar Standard, Milk Bar, City Hall, and the Living Room.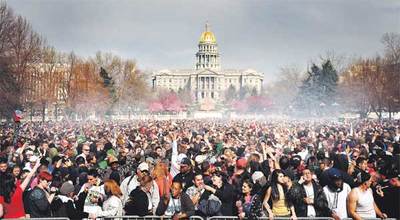 The all night affair also included visual arts, comedy, and a marketplace. Hosted by The Green Solution, incredibles, and The Hemp Connoisseur (THC) Magazine, it was truly a homegrown event. Tickets provided access to all venues throughout the night with each club offering a different experience and atmosphere. Music lineup included Cut Chemist, Don Carlos, Rusko, Dumpstaphunk, J Phlip, Del the Funky Homosapien, Invisibl Skratch Picklz, Blockhead, and Phaeleh.
Denver also held the annual 420 Rally in downtown Civic Center Park, though it faced public backlash after the somewhat chaotic festivities. 4/20 faced rain from a storm passing over the mountains and many marijuana fans wore ponchos to protect themselves (and the bud). Two were arrested after the festivities after authorities heard gunfire; however, none were injured. The day after the festival, the Civic Center Park was filled with debris despite claims from organizers that the park was clean the night before. Organizers cited Denver's wind and rain as the cause of the mess, though reports revealed that the park was left in disarray the night before. Mayor Hancock of Denver since issued a review of the 4/20 event and organizers were recently banned from the park for three years.
Another Denver standout includes the opening of the International Church of Cannabis along Logan Street. The group has garnered mixed sentiments from neighbors and locals. The church and Elevation Ministries made headlines again this past month as it announced it will offer cannabis-friendly wedding environments. Lawmakers and officials still stress that the is no religious exemption to Colorado's public consumption laws.
Noted in our previous coverage, the Dope Cup brought a new element to Seattle's high holiday celebrations. Dope magazine hosted the event in conjunction with Ionic Vape and together brought cannabis creatives from across 18 different product categories. More than 3,000 people attended the hybrid convention, fair, and festival. The 21+ event was also free, attracting a myriad of performers, food trucks, and vendors. However, the highlight of the event was the competition itself. Fairwinds Manufacturing took the title for the best topical while Ethos 2-1 took the best tincture. In the concentrate categories, Lucid Oils took best CBD shatter while best was awarded to Doctor and Crook's Lemon OG Kush Cartridge Oil. Oleum Extracts' Magnetic Honey Crystal took the best live resin category. Other standouts include North Coast Growler's Fruity Pebbles train and Solstice Grown's Shurman #7, which took the cup's title.
Want to know about 420 celebrations across the station? Check out our news and blog sections.