Colorado Reaches $1 Billion in Weed Sales for 2016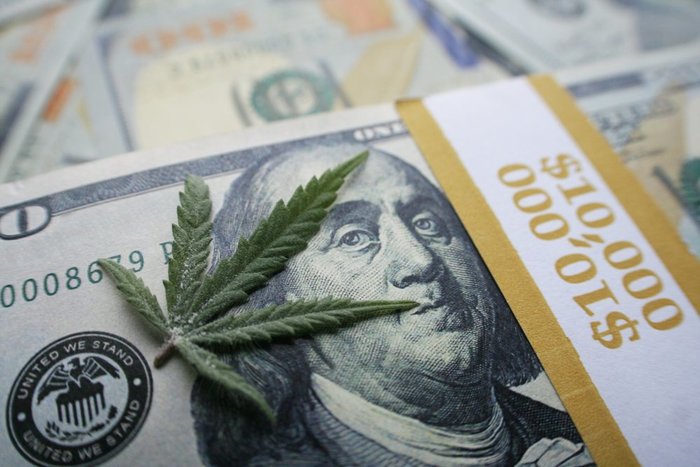 Colorado did it before anybody else – surpassing the $1 Billion in weed sales of legal cannabis in 10 months during 2016, just one year after coming up a teeny bit short of the milestone revenue figure the year before. That's absolutely amazing considering that marijuana was still illegal to use recreationally in Colorado a few short years ago. Imagine how much weed you could buy with 1 billion dollars. That's gotta be enough weed to kill Willie Nelson, right? Let's take a look at how many joints, ounces, and pounds of weed you'd be able to buy with a billion dollars.
But first, history.
Colorado legalized recreational pot in 2012 when marijuana businesses owners (along with the mass majority of the general population) voted to expand into recreational sales from medical sales. In 2016, these businesses reportedly sold roughly $1.1 billion in recreational marijuana sales, medical sales and the sale of other related products in just 10 months. By October 2016, Colorado surpassed the 1 billion dollar mark according to Colorado's Department of Revenue. It's a pretty big leap in sales from the year before, which only topped around $996 million. I mean, 4 million dollars is 4 million dollars, no matter how you try to cut it. Record-breaking sales soon made national news.
The news was first reported by The Denver Post, who reported that Colorado sold a billion in weed. The record sales showed that recreational marijuana users in Colorado spent almost $83 million dollars in retail sales in the month of October alone, not to mention that medical cardholders purchased $35 million bucks of medical marijuana in the same month. In November and December of 2016, The Denver Post also mentioned that the legal market could've hit a full $1.3 billion for the rest of the ear which would have been another 30% spike in marijuana sales over the sales made in 2015. Keep in mind that we've had medical marijuana on the shelves since 2000. It's important to take into consideration that there was a massive bump in the pot market sales in 2014 when we legalized recreational weed in 2014, which was a 42% increase in one year.
In the first 10 months of 2016, Colorado collected over 150 million dollars in tax from recreational pot sales, which included almost 50 million from a tax on weed that is specifically directed to fund schools and construction projects in Denver cities. The first 40 million dollars collected after a year from this specified tax always goes to schools
ArcView Group, a cannabis industry research firm estimates that with the exponential growth we're experiencing each year in marijuana sales, we can expect to see a potential 22 billion dollars in annual sales by 2020. The only issue is that Trump is our new president, and we will still have to wait and see how his administration will handle the issue of legalization or decriminalization because cannabis still remains illegal under federal law even though just about every state is on board with legalization or at the very least, decriminalization.
Ever since we've legalized recreational sales, three other states along with several other states have opened their eyes to the potential financial gain of marijuana. Several states have started their own recreational programs and several others have started to allow medical marijuana. Now more than 20% of the US population lives in a state where legal pot is available. Medical marijuana is available in 28 states.
The Average Cost
We checked out some awesome data from May of 2016 that compared the prices of weed at several different Denver dispensaries and compared the data from then to newer data now, which you can check out here. This data is by no means 100% set in stone, but it gives a pretty good idea on the cost. So for convenience sake, we will go by this data so that we can show you just how much weed can be bought with one billion dollars in the state of Colorado.
Those who collected this data said: "As we do every season, we randomly surveyed 25 recreational stores in the greater Denver metro area, as well as 10 recreational stores along the I-70 corridor in the mountains to determine general recreational marijuana price trends. To make sure we found true averages, we disregarded the most expensive and the least expensive strains per store, as appropriate. Remember that many dispensaries offer "high" and "low" grade strains, which often increase or decrease the average cost by around 50%. Overall, the findings from the spring 2016 season compared to the data from the winter 2015/2016 determined an average decrease of 4% in the Denver metro area and an almost flat line in the mountains (with a mild uptick for 1/8oz and 1/4oz and mild downtick for 1/2oz and ounces)."
They went on in a newer post to mention that "Overall, flower prices at Colorado cannabis retailers (adult use/recreational) declined 12% over the 12 months ending in June 2016 according to BDS Analytics. Most likely, the decrease is due to market supply and demand, both the increase in the number of cultivators, as well as the increased capacity amongst existing cultivators has lead supply growth to outpace demand — therefore immediately dropping the cost across the board. Conventional wisdom says competition is good for consumers and with approximately 400 cannabis retailers battling for market share in Colorado, there's significant pressure to reduce prices. Flower lovers have rejoiced as prices have steadily declined since legalization in January 2014. Specific analysis of such POS (point-of-sale) data found flower gram prices ranging from $5.44 – $13.76."
Using this data, we can determine that the average price for an ounce is about $200 in the Denver Metro area. When you divide a billion dollars by two hundred dollars you get 5 million. You could buy 5 million ounces of weed with 1 billion dollars.
There are 16 ounces in a pound, so by using this logic, with the average price of a pound of weed being around $1700, you would be able to buy about 589,000 pounds of weed with a billion dollars.
Let's say that your average fat joint is a gram, since even science is having a hard time determining how much weed is actually in the average joint (everyone rolls differently). The average price of a gram is about $10 according to the data, which makes it possible for you to purchase about a hundred million grams of weed or roll a hundred million joints with a billion dollars
That's a lot of weed, literally tons and tons of cannabis and cannabis-infused products. A billion dollars worth of weed would be able to fill a few shipping containers floor to ceiling and to the brim. Where else would you be able to keep it, right? What would you do with a billion dollars worth of weed? Who would you smoke with and which denomination would you prefer as far as size goes? How much money do you think you spent on weed last year that contributed to this billion dollar mark in legal cannabis sales? We always want to know what you think and what you've experienced in the legal weed world, so let us know!