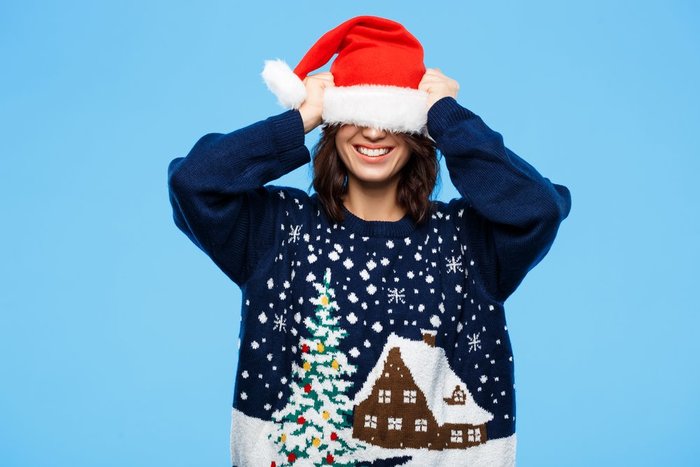 Whether you think of it as the most wonderful time of the year or the time when Christmas music is shoved down your throat, any time after Thanksgiving (or Halloween for that matter), is Christmastime. And that means it's time to start thinking about ugly Christmas sweaters.
Of course, fashionably ugly Christmas sweaters aren't just about fads and consumerism; they're also about sharing what makes your spirit bright during the holidays.
Why not spice up Santa season by wearing a weed Christmas sweater or dank Hanukkah hoodie? You can show your love of cannabis by literally wearing it on your sleeve.
That's why Leafbuyer collected eight of best weed Christmas sweaters and three dope Hanukkah sweaters for you to celebrate the Holi-daze.
 Hempy Hanukkah Gear
Hanukkah comes earlier in the season, so it's natural to start off the weed Christmas sweater list by getting lit like a menorah. Here are three weed-themed Hanukkah sweaters to keep you going all eight blazing nights.
Light It Pass It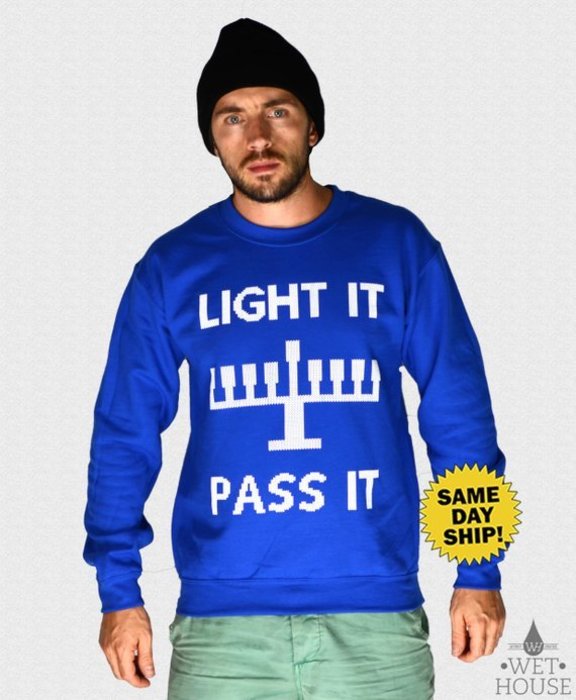 This Hanukkah sweater understands the importance of sharing. Prepare to make heads and dreidels spin when you come down the mountain wearing a sweater this fire. Just remember to light some incense after you, uh... 'talk to the burning-bush.'
Price: $24-$28
Sizes: Extra Small through 3X (Men's sizes only)
Colors: Green, Royal Blue, and Black
Available on Etsy by wethouse
Blaze It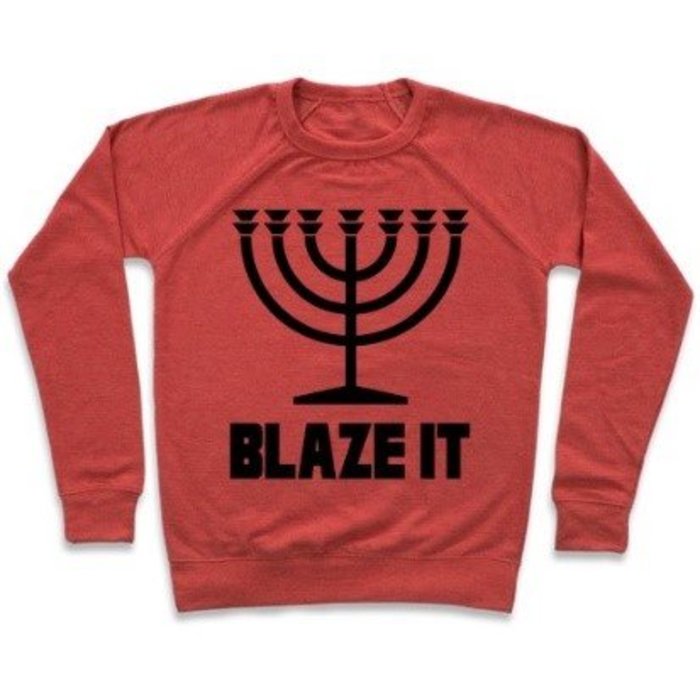 This heathered Hanukkah sweater lets everyone know that you dig the bitter herb and are proud of it. Wearing one may cause an exodus to the wilderness, so everyone can join you on your "walk" after dinner. You're a trend-setter, a fad establisher, and a trail-blazer.
Price: $23.99
Sizes: Extra Small through 3X (Unisex)
Colors: Heathered Blue, Heathered Grey, Heathered Red, Heathered Oatmeal
 Let's Get Lit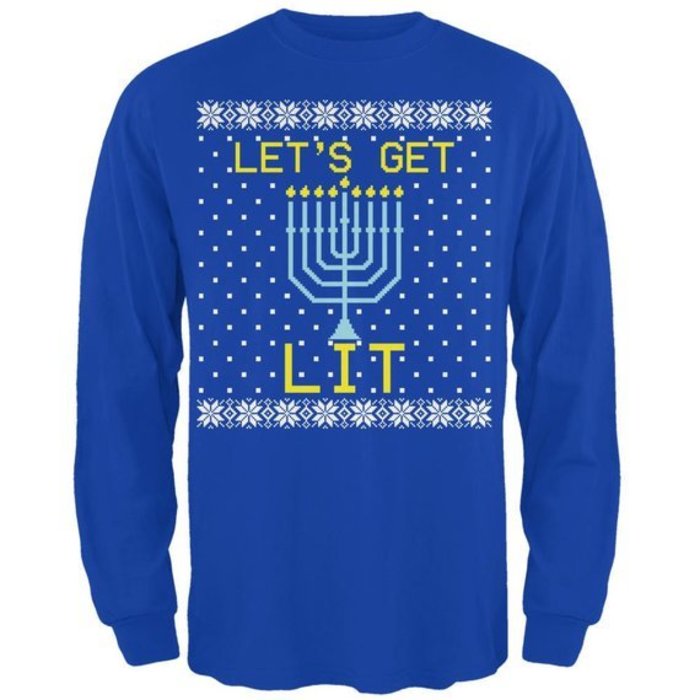 This dope Hanukkah sweater is so slick, there's no doubt it has enough oil to make some sick vape clouds. Feel free to sport one during this Festival of Lights; because what better way to exemplify universal enlightenment then to get lit?  *solid-gold puns not included.
Price: $18.95-$21.95
Sizes: Small through 2X (Men's sizes only)
Colors:  Blue, Grey
Available on Etsy by artist OldGloryMerchandise
Decadently Danky Weed Christmas Sweaters
These weed Christmas sweaters will remind you that beauty is in the eye of the beholder, and that it's the perfect season to be holding weed. All of these pun-intended pot, party-poncho names read like a list of chronic Christmas songs. Will you be the first to deck the high-halls this year with a hilarious weed Christmas sweater?
 I'm Dreaming of a Green Christmas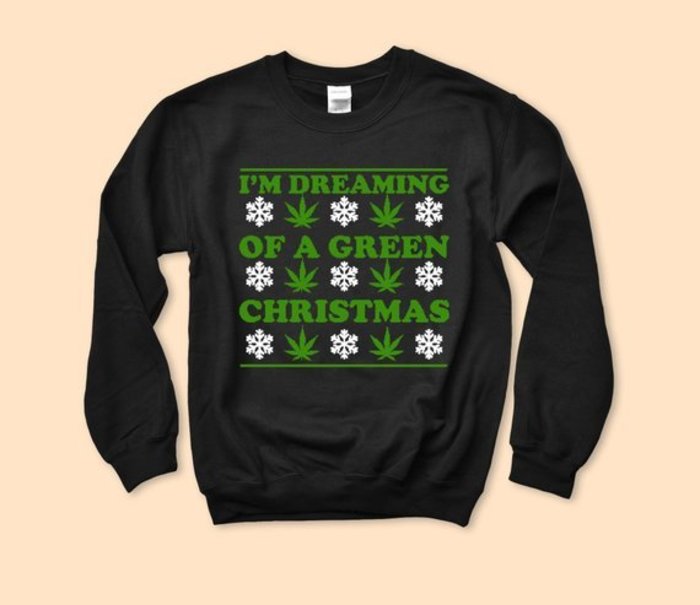 Some of us sunbelt dwellers don't get to experience a white Christmas, the best we can hope for is a generous green Christmas. But with this weed Christmas sweater, it doesn't matter if you live in scorching Arizona or the North Pole; we all know what green you mean.
Price: $33.29-$40.49
Sizes: Small through 5X (Unisex)
Colors: Black, White, Navy Blue, Maroon, Grey, Light Blue, Pink, Red
Available on Etsy by HighCiti
Have Yourself a Marijuana Christmas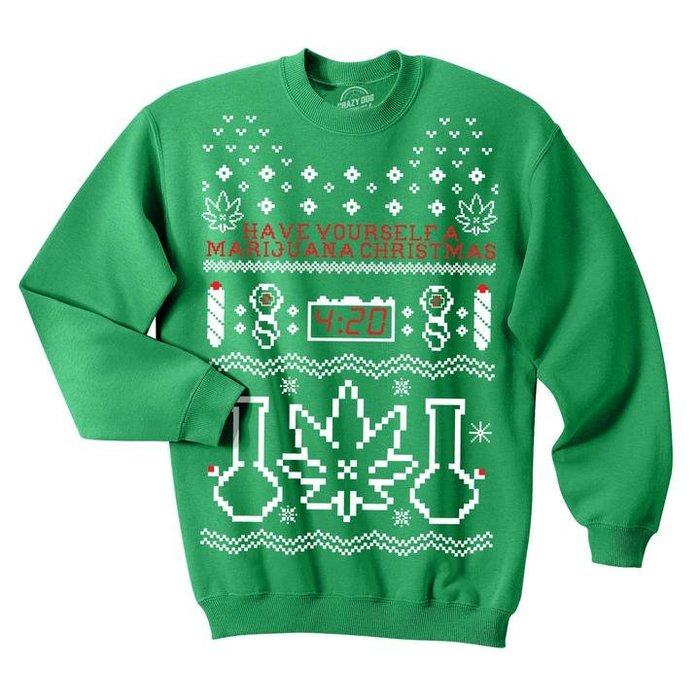 This weed Christmas sweater has all the Christmas bases covered with dope doppelgangers: candy cane-looking joints, bowl-men instead of snowmen, and of course a giant cannabis leaf instead of a Christmas tree, another of the season's evergreens.
Price: $14.99
Sizes: Small through 3X (Unisex)
Colors: Only Green baby
Available at Crazy Dog T-Shirt
Mistlestoned
Mistletoe is considered good luck because it stays green even during the harshest winters, but that's only half as lucky as you'll be if you get this weed Christmas sweater. Ironically, it doesn't come in green.
Price: $35.95-$38.95
Sizes: Small through 5X (Unisex)
Colors: Black, Navy Blue, Royal Blue, Red
Smoke Weed Every Christmas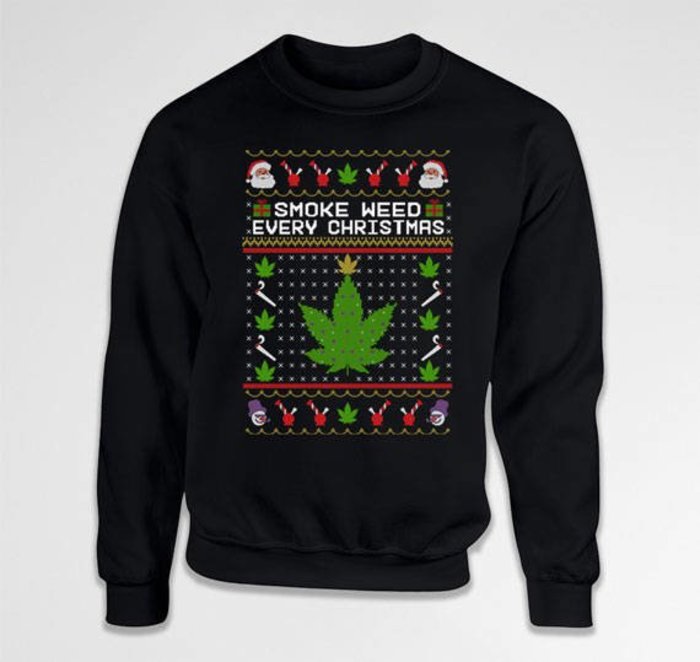 If you're the kind of person who secretly hopes that Santa leaves nugs in your stocking, then this weed Christmas sweater is perfect for you.  You'll be sure to pick up some serious "special brownie"" points with St. Nick for wearing this piece.
Price: $35.99-$41.99
Sizes: Small through 3X
Cuts: Crewneck or Hoodie
Colors: Black, Red, Forest Green, Sport Grey, White, Navy Blue, Royal Blue, Burgundy
Available on Etsy by Teepinch
Merry Juana Christmas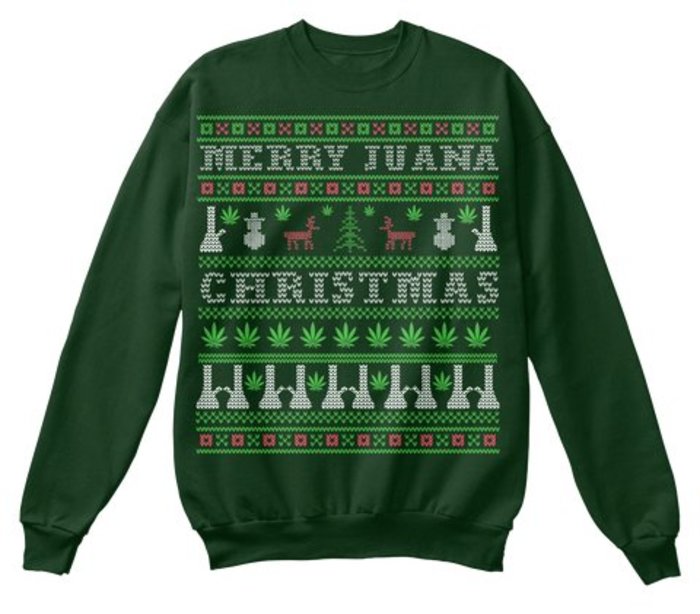 This awesome seasonal sweater has everything you need to have a merry juana Christmas: bongs, pot leaves, snowmen, a Christmas tree, and reindeer (I can only assume Blitzen).
Price: $33.99
Sizes: Small through 2X (Unisex)
Colors: Dark Green, Navy Blue, Black, Royal Blue, Wine Red
Happy Holiblaze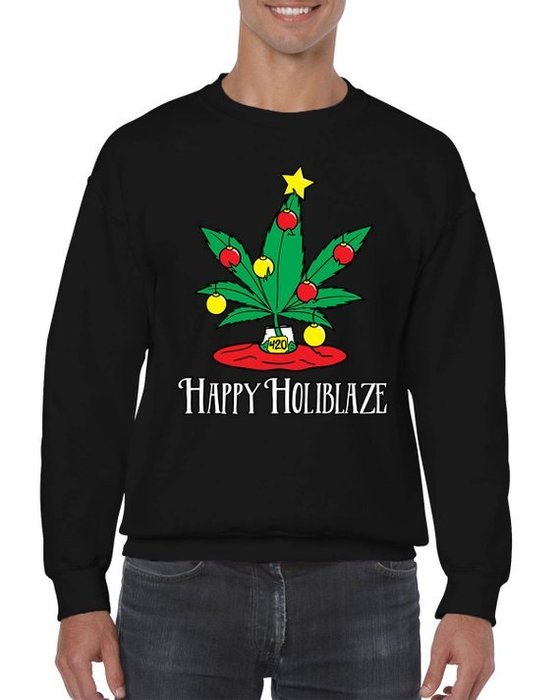 This weed Christmas sweater lets you celebrate the chronic without all the clutter. Minimally ornamented medicine mixed with wholesome seasonal salutations. You have the aesthetic of a stoned Christmas elf.
Price: $23.00
Sizes:  Small through 3X (Men's sizes only)
Colors: Black, Light Grey, Red, Irish Green, Navy Blue
Available at Etsy by artist SpiritForgedApparel
 Let's Get Baked Gingerbread Sweater
Don't let the double entendre fool you, no elf would leave this cookie on their shelf.  This ginger-baked man has all the right ideas about giving your seasonal sweet tooth a sample of a sativa strain. Get ready to roll up your green sleeves and mix it up with some cannabis confection.
Price: $49.95
Sizes: Small through 3X (Unisex)
Colors: Everyone will be envious of your sweater which only comes in Green
Peace, Pot, and Aliens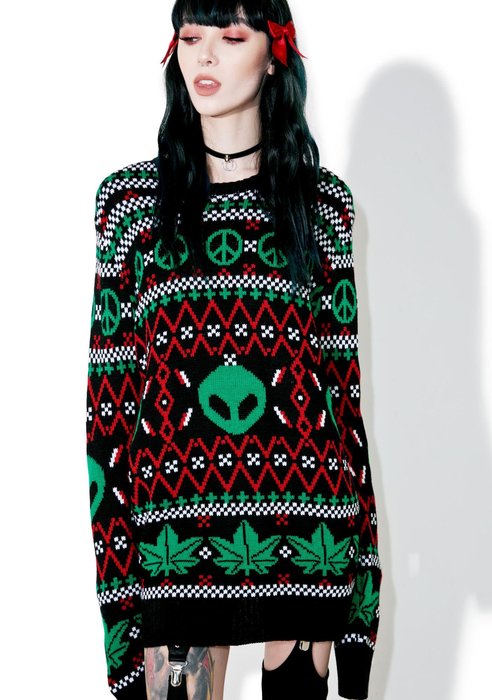 Let's be honest, Santa can't leave presents for all the kids. But you know who can? Aliens. Name one scenario that makes more sense than extra-terrestrials being extra nice on Christmas to show their cosmic compassion and adoration of cannabis. Stargazing stoners be warned, wearing this weed Christmas sweater may cause a close encounter of the kind bud.
Price: $23.40
Sizes: Small through Large (Women's)
Colors: Just Black (like space)
That's a Wrap
Now you've seen some unique weed Christmas sweaters to wear while baked. These sweaters are the perfect thing to wrap yourself in this holiday season. Who knows, if enough people show the spirit, maybe Hanukkah and Christmas could become the next "high holidays."
Check out Leafbuyer to find the season's best deals from dispensaries near you.