For a state with so many retirees with long-term, chronic ailments, you'd wonder why medical marijuana wasn't legalized sooner down in Florida. The good news is that Amendment 2 passed on November 8th, and Florida will be getting a nice, in-depth medical marijuana program. This is excellent news for all Floridians, as it's likely to create new industry jobs and boost Florida's economy, much like it did in Colorado.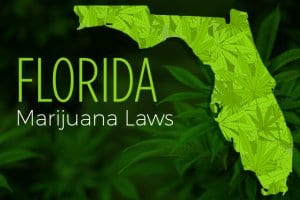 Medical marijuana in Florida isn't 100% new, though. Before Amendment 2 was voted on, there was a very small medical marijuana program available, but it was so strict that there wasn't much use. Previously, Florida was allowing people with terminal illnesses and chronic pain to use high 1 strain: Charlotte's Web, since it is the highest in CBD content. Others having chronic seizures could utilize CBD oils to prevent seizures from happening, and that was essentially the extent of the program. No variety, and very difficult to take part in.
The new medical marijuana program in Florida aims to help a much larger number of people suffering from a larger variety of things. It will be regulated by the state, and marijuana will be prescribed by doctors who believe their patients will benefit from cannabis treatment.
Amendment 2
The Medical Marijuana Legalization Initiative (Amendment 2) was approved on November 8th of this year by a whopping 71.3% of voters. This initiative amends Florida's constitution by allowing the use of medical marijuana for individuals with debilitating medical conditions as determined by a licensed Florida physician. It will also allow caregivers (parents, children, nurses, etc.) to assist them in their marijuana use.
The amendment also mentions that there will be several dispensaries opened and regulated by the state of Florida. That Floridians will also need medical marijuana ID cards to purchase this marijuana, and that the legalization of medical marijuana doesn't immunize any criminal charges for marijuana on the federal level.
Word for word, Amendment 2 states the following:
"Allows medical use of marijuana for individuals with debilitating medical conditions as determined by a licensed Florida physician. Allows caregivers to assist patients' medical use of marijuana. The Department of Health shall register and regulate centers that produce and distribute marijuana for medical purposes and shall issue identification cards to patients and caregivers. Applies only to Florida law. Does not immunize violations of federal law or any non-medical use, possession or production of marijuana." Allows for Medical Marijuana Treatment Centers to be registered by the Department of Health."
Approved Conditions
The Medical marijuana amendment won't cover all health ailments, but the few that have been clearly detailed and defined as acceptable conditions required to apply for a medical marijuana card are as follows:
Cancer
Epilepsy
Glaucoma
HIV/AIDS
PTSD
ALS
Crohn's disease
Parkinson's disease
Multiple Sclerosis
There are, however, a few other conditions not detailed. The amendment leaves the doctors the chance to prescribe medical marijuana. Any disease they see as related to the above, or are considered debilitating by the doctors will be allowed to receive marijuana as treatment. If the doctor feels that the potential risks of smoking marijuana are nothing in comparison to the benefits the patient will receive, they will qualify for medical marijuana in Florida.
Possession and Cultivation Laws
Since this is such a new measure, Florida's possession and cultivation laws are to be announced in the future. The law gives Florida's health department six full months to establish cultivation regulations and possession laws. They also have another three months to start giving people their medical marijuana Identification cards. After these nine months, patients in Florida will need a valid doctor's recommendation note to shop at dispensaries until the medical marijuana cards are issued. It is also undetermined whether there will be a fee to process the application for a medical marijuana card, or if Florida will accept medical marijuana cards from other states as well as their own.
Where the Weed At?
Florida can already expect dispensaries to begin opening across Florida. More than two years ago, Trulieve and her distributing sister company were given the opportunity to grow and distribute cannabis very low in THC and high in CBD for their very small marijuana program. Now that it's expanding, the dispensaries will open across Florida. The CEO of Trulieve, Kim Rivers couldn't be more excited to help more people and get the show on the road.
"There has been a great responsibility and pressure to get this done as quickly as possible," Rivers said. "Patients have waited too long. The most important thing is to be able to have it available for patients who have a dire need for it."
Get ready, Florida! Welcome to the wonderful world of medical marijuana.
by Nicole Flanigan