Cannabidiol (CBD) is all the rage. Cannabis takes many forms and has brought accessibility to its users. At one time, the power of marijuana could only be enjoyed through smoking; now, there is no right or wrong way to do so. CBD is representative of this new ease ? it has redefined what cannabis looks like, in addition to how it feels and how the body reacts.
Cannabis-infused topicals are an example of the hemp revolution. They change the game: no high, no ingestion, just results. And when inflammation flares up, there's a clear choice. CBD topicals, known for their safety, ease, and efficacy, are opening new doors of accessibility for even the most unlikely users to feel relief.
Topical Paradise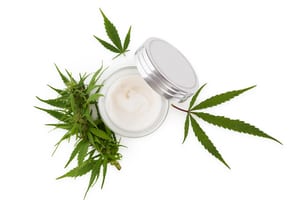 Topicals are defined as cannabis-infused oils, lotions, creams, and balms that are applied topically to the skin. Their main purpose is to target areas of pain, soreness, and inflammation; when applied directly to the trouble area, the relief is localized as the topical is absorbed into the skin. In addition, topicals do not produce a high; they are a popular choice for patients looking only for the therapeutic or medicinal benefits of marijuana, without the traditional psychoactive side effects.
Some topicals are strain-specific and are made from certain types of terpenes and cannabinoids to emphasize different effects. The processor chooses whichever strain he'd like to imitate and chooses the terpenoids specific to that strain. Topicals are also made with CBD, THC, and THCA, plus ingredients such as essential oils and plants that add different elements of soothing relief and different flavor profiles.
How They Work
Topicals work through chemistry. The cannabis compounds found in lotions, oils, sprays, and salves first seep into the skin and then bind to CB2, a group of receptors. CB2 receptors are common throughout the entire body and are activated by endocannabinoids. Endocannabinoids occur naturally in the body as well as in cannabis compounds such as THC and CBD. When a topical contains these endocannabinoid ingredients, they bind with the receptors and they can begin to do their job within the body.
Inflammation Game
There are a wide variety of symptoms that topicals can help to treat. The symptoms of burns, psoriasis, skin infections, rashes, and eczema can be relieved through a dollop of infused cream, oil, or salve. From muscle soreness to tension to skin-deep pain, topicals are a helpful tool for localized pain relief. Some symptoms might appear to be straightforward but are actually caused by a different underlying issue. For example, arthritic pain is caused specifically by inflammation.
For issues directly related to inflammation, the chemical profile of the topical matters. CBD and THCA are anti-inflammatory. Research supports transdermal CBD as a direct solution for inflammation and the pain associated with it. Active THC, however, is not a solution for inflammation. It has to be left in its acid form to be useful, then combined with CBD. Then, inflammation and the pain associated with it, are fought away by the ingredients within the topical.
Some ingredients work better than others depending both on your body and how the topical is processed, so a level of exploration is necessary. Through a certain level of trial and error (while still looking out for the important elements of CBD and THCA), research can be done to discover the ideal ingredient to target inflammation needs.
Products to Check Out
Thanks to their growing popularity and the widespread legalization of marijuana, topicals are increasingly easier to get ahold of. You don't need to go through any hoops and registrations to get medical permission in states with recreational cannabis use; instead, it's as easy as heading to any dispensary or ordering online. Be sure to check on Leafbuyer to see if there are any coupons available in your area.
Angel Salve ? EvoLab
This salve, dubbed High Times' "Best Topical," is a cannabis-infused cream similar to a bio-freeze. Like its non-hemp counterpart, Icy Hot, Angel Salve works as a numbing spot treatment for muscle or joint pains. Thanks to its main ingredients ? CBD and THCA from flower extracts ? it works as a pleasant source of relief for inflammation.
Hemp Oils ? CBDPure.com
On CBDPure.com, there are several options for topical relief. Their extracts are simple and specialized, made from certified organic hemp sourced from Denmark. The ease of online ordering, in combination with the purity of product and the selection of topicals to choose from, make for a convenient and quality source.
Relief Balm ? Flour Child Collective
Flour Child's Relief Balm has a specific purpose to treat spots of inflammation. The balm acts to also relieve joint or muscular pain, sciatica, and arthritis. The non-cannabis ingredients are a fragrant mix of mango butter, avocado oil, beeswax, sunflower oil, and kokum butter. On top of being chock-full of CBD and THC, Relief Balm is moisturizing and helpful for healing burns.
When issues of inflammation arise, don't sleep on CBD-infused topicals.