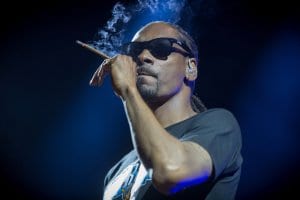 Forget the "lazy stoner" stereotype. Some of the hardest working and renowned musicians, actors, and larger-than-life celebrities today are heavily into the cannabis culture. The magical green plant is lit up at many a Hollywood party or backstage fiesta. In fact, some of the most famous people in the world actually believe that cannabis has helped to inform the decision-making and creativity that got them to the top of their game, or it is at least a much-needed stress reliever that helps them deal with the pressures of making it big. Let's take a look at Leafbuyer's Top 5 Celebrity Stoners of All Time:
Snoop Dogg
Way back in the early 1990s, a young man from the Los Angeles neighborhood of Compton burst onto the rap scene as the sidekick to Dr. Dre of NWA fame. He went by the name Snoop Dogg, and his remarkable lyrical flow helped make Dre's 1992 album The Chronic (named after the weed they smoked while recording) one of the best rap records in history. Snoop followed that up with his own solo album, Doggystyle, a year later, immediately becoming one of the premier hip hop artists of his generation.
Snoop's love for cannabis is evident throughout his lyrics. His smash hit "Gin & Juice" contains lines like "Rollin down the street, smokin' endo, sippin' on gin and juice," and "My homey Dr. Dre came through with a gang of Tanqueray, and a fat ass J, of some bubonic chronic that made me choke. Sh*t, this ain't no joke." In 2012, he released an album called Stoner's EP as an homage to the cannabis culture. Along with his successful solo career, Snoop Dogg has also collaborated with some of the top pop artists like Katy Perry and Pharrell Williams on smash hits that have made him quite a rich man.
But he hasn't stopped there. Snoop has turned into a business mogul with an entrepreneurial endeavor into the legal cannabis industry. He is a venture capitalist that has funded startups like Eaze, a cannabis delivery service. His Snoop Dogg G Pen is among the top-selling vape pens available. He has also formed Leafs by Snoop, his very own cannabis cultivation company that produces premium strains like Northern Lights and Cali Kush in addition to a long line of delicious THC-infused chocolates and candies. And of course, there's a strain called Snoop's Dream that pays tribute to the rapper-turned-business-mogul, cementing his place in cannabis history.
Seth Rogan
He wrote the classic 2007 American comedy Superbad while he was in high school. He wrote and starred in Pineapple Express, one of the best stoner films in history. He generated an international controversy with his 2014 film The Interview, a comedy that got all too real when a group with ties to the North Korean government allegedly hacked into the computer systems of Sony Pictures Entertainment and warned theaters not to show the movie. And all this just barely scratches the surface of Seth Rogen's impressive IMDb resume.
The best part is that Seth Rogen is a self-proclaimed stoner, a regular smoker who gets inspiration and relaxation from cannabis. In a 2017 interview on the Howard Stern Show, Rogen said that he often medicates throughout the day, even while doing acting or writing work. Rogen said his wife also partakes in the green ritual, making it a family event of sorts. His instructional video "Rolling with Rogan" has raked up millions of views on YouTube, and a strain called Pineapple Express has been created in tribute to Mr. Rogan. Quite an honor for this leader of the cannabis culture!
Joe Rogan
It would probably be quicker to list all of the things that Joe Rogan doesn't do rather than what he actually does. He's a mixed martial arts fighter, the former star of a reality television show, one heck of a standup comedian, and the host of a podcast that features some entertaining and interesting long-form discussion with celebrities ranging from James Hetfield of Metallica and comedian Jim Breuer to nutritionists and scientists.
He's also a major proponent of cannabis. His podcast The Joe Rogan Experience often touches upon the mental, physical, and spiritual benefits of cannabis, along with the reasons why legalization is the best way for America to go. Search "Joe Rogan cannabis" on YouTube and you can listen to hours of informative conversations about the world of weed. Rogan has even been known to get high during his podcast. Earlier in 2017, he smoked a joint on air with conspiracy theorist Alex Jones and martial arts master Eddie Bravo, after which they proceeded to get into quite a stony conversation about aliens merging with technology, or something.
Willie Nelson
Folk singer Willie Nelson is one of the OGs of celebrity stoners. He has seen it all since he burst onto the scene in the 1960s, and he's never been shy about his love for cannabis. And Willie continues to pay tribute to cannabis even in recent years. His 2012 song "Roll Me Up and Smoke Me When I Die" is listed among the best country songs about marijuana, ever (the song features vocals by none other than Snoop Dogg). Toby Keith, another country megastar, even wrote a song called "Weed with Willie" to document smoking some top-shelf herb with the master himself. Not bad!
Miley Cyrus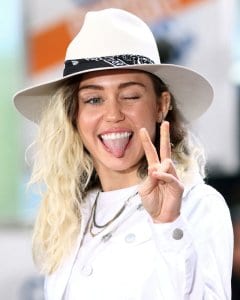 She sings, she twerks, and she's never shy about showing her body off to the masses. That's right, we're talking about none other than Miley Cyrus. In addition to her own slew of hits like "Party in the U.S.A." and "Wrecking Ball," Miley has collaborated with Snoop Dogg on the tune "Ashtrays and Heartbreaks." And that's not a coincidence. She once told Rolling Stone that "Weed is the best drug on earth," and she even puffed a joint onstage at the 2013 European Music Awards. It's safe to say that this former Disney Channel star deserves consideration as one of the Top 5 Celebrity Stoners of All Time