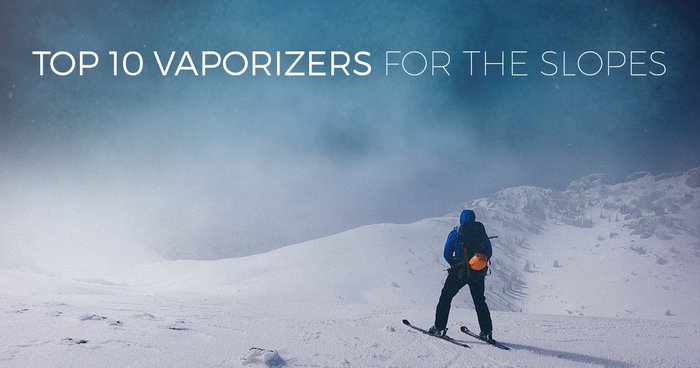 If you vape on the regular, you probably already know that vaporizers aren't created equal and that some vaporizers perform better under certain conditions than others.Some vaporizers do well in extreme heat, and others can perform in cold below freezing. Some vaporizers are designed for stealth, and others are designed for easy use. Vaporizers come in a hundred different shapes and sizes and they all serve a unique purpose. Winter is here, though, and the avid winter sports guy is probably looking for a solid list of vaporizers that will kick ass and take names on the slopes. Here's what we found
1. The WISPR 2
At $169, the WISPR 2 is a fairly priced portable vaporizer that does amazingly out on the slopes. This vaporizer was designed and brought into being in Ireland, where a cold day is a pretty common occurrence. The WISPR 2 was designed to perform well under below freezing conditions, and this little champ pulls it off. Unlike most vaporizers, the WISPR 2 is powered by butane fuel instead of a lithium ion battery. Unlike most batteries, butane does well in the cold and allows the unit to operate at peak performance regardless of how cold it gets. This vaporizer comes in several different colors and is designed with a nice large chamber to allow for longer smoke sessions. The mouthpiece also folds and stows away, so that you can fit the WISPR 2 in your pocket while you ski or snowboard. It also has a single temperature control to make it easy to use when your fingers are cold and numb, and it heats up in about 15 seconds.
2. The DaVinci Vaporizer
For a limited time, DaVinci is offering a big discount on their vaporizer bundle. At $129, you can get the ultra-precise and versatile DaVinci vaporizer as well as the flexi-straw (and a few other freebies), which really makes the DaVinci vaporizer one of the best for hitting the slopes. It looks like a walkie talkie, but the flexi-straw mouthpiece allows you to put the vaporizer anywhere and hit it as you see fit. It utilizes a lithium ion battery, so try to keep it close to your body if the temperatures are below freezing. Another great thing is that it's very sturdy, so you don't have to worry about dropping it, but try to avoid it. This vaporizer also has an unmatched chamber. It holds enough weed for you to hit the slopes all day. Overall, a nice sturdy and discreet vaporizer, but try to keep it warm if it's getting super cold out.
3. The Vapman
Starting at $122, the Vapman is by far one of the most interesting vaporizers out there. Each unit is handcrafted in Switzerland, and they really are absolutely stunning. IT has a copper and gold plated heating chamber and a torch lighter. The butane filled torch is what makes the Vapman a great vaporizer for hitting the slopes. Since it doesn't have to utilize batteries, you won't have to worry about having trouble hitting this vape in below freezing temperatures. The Vapman also comes in a small waterproof and odor proof carrying case that will keep your vaporizer and your weed safe and dry. This is excellent for when you get snow in your pockets.
4. The Summit
The Summit by Vapium, starting at $150, is a vaporizer designed for skiing and snowboarding, hence the name. This vaporizer has a nice small and sleek design, making it incredibly versatile and portable. It's built to be durable and can handle drops and spills with ease. It heats up in about 45 seconds from your pocket and vibrates to let you know that it's nice an hot. The Summit is also designed with user ease in mind, utilizing only three buttons. The battery doesn't do well in sub-zero temperatures, so be sure to either keep it close to your body on the slopes or bring a spare battery.
5. VaporGenie Vaporizers
Starting as low as $65, VaporGenie vaporizers have a patented design that works excellent in the cold at high altitudes. You will have to worry about wind, but if you have a nice strong lighter, you'll be able to vaporize your weed discreetly with ease. The patented flame filter is specially designed to mix the flame from your lighter and cold winter air to provide vaporization temperatures of about 225-375 degrees. The flame filter is also specially designed to withstand the flame heat for many years. It is made of high-purity silicon carbide, an extremely durable and nontoxic ceramic, so really, it's a nice sturdy piece that will last a long time.
6. The Launch Box Vaporizer
Starting at $119, the Launch Box is an excellent choice for vaporizing on the slopes. This little unit fits in your pocket with ease and is designed with simplicity in mind. It has no problem putting in hard work at high elevations and in below freezing temperatures, but it does use AA batteries, so if you're going to go up for a while, it never hurts to bring extra batteries. It's also super simple, clean and easy to use, and one of the safest vaporizers out there because it has no breakable parts, no combustion, and very little odor.
7. The Pax 2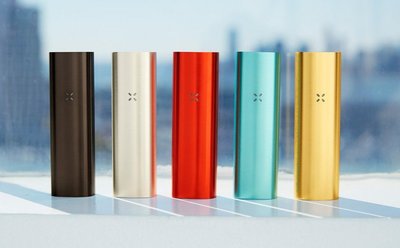 The Pax 2 has been called the Apple of the vaporizer world because the design is just so clean. It's very small and discreet so it's great for toking out on the slopes. The Pax 2 is also one of the best options you can get your hands on for getting toasted. It produces a lot of vapor for you to enjoy, and it stays cool to the touch, but it rips like a desktop vaporizer and it's portable. At $200, it's a bit pricey, but well worth it. It's strong, discreet, and completely idiot-proof, all fantastic qualities in a vaporizer.
8. The PUFFiT Vaporizer
If you're shooting for stealth on the slopes, check out the PUFFiT vaporizer, starting at $119. This thing is designed to look like an asthma inhaler, but it also does well in extreme heat and cold. According to people who own the PUFFiT vaporizer, it holds its own at higher altitudes, but it will take a few minutes to heat up in extremely cold temperatures.
9. The Ruva
The Ruva by AtmosRx is an amazing, discreet, and ultra portable vaporizer that does well on the slopes. It is, however, battery powered, so a good rule of thumb is to do your best to keep it warm. It will vibrate when you heat it up to the temperature you select on the LED display and comes with a nice quick and easy refilling process. The Ruva starts at $130. It heats up nice and quick wherever you are, and it's nice and sturdy for being so high-tech.
10. The Inhalater 5S
Last but not least we bring in the Inhalater 5S. While this isn't the newest Inhalator model, it's one of the best for winter enthusiasts at a fair price of $200. It includes a patent-pending dual conduction-convection vaporization chamber that makes for a nice quick smoke. It comes with an adjustable temperature knob on the bottom so you can adjust how warm you want the vapor to be. It is also almost as sleek and sexy looking as the Pax 2. Great at high altitudes and under cold conditions.