The Washington Post reported Monday that more studies have found that marijuana can treat patients struggling with opioid addiction. The Journal of the American Medical Association published the studies on Monday, which looked at the difference between prescription painkillers in legal medical marijuana states verses states without legal medical marijuana.
The studies monitored prescriptions for opioid painkillers that Medicare Part D covers from the year 2010 to 2015 and compared them with prescription opioids that Medicaid covers from 2011 to 2016. The studies concluded that marijuana legalization may decrease the number of opioid prescriptions written annually. The studies were conducted by the University of Georgia and led by professor David Bradford.
Researchers found that there were 2.21 million fewer daily doses of opioid painkillers prescribed annually that were covered by Medicare Part D than in states without legal medical marijuana, which amounted to around 14 percent fewer daily prescription opioid doses than other states. Medicaid also had a 5.88 percent decrease of prescriptions written in states with medical marijuana compared to states without legal medical marijuana.
Opioid addiction is an epidemic in the United States. More than 500,000 people have died from an opioid overdose since the year 2000 ? more than the number of U.S. soldiers killed in World War II. According to the U.S. Centers for Disease Control and Prevention, more than 42,000 people die every year in the country from an overdose from opioids, resulting in more than 90 deaths every single day nationwide.
Researchers also found that medical marijuana states had 20.7 percent fewer morphine prescriptions written than states without legal medical marijuana. The studies also showed 17.4 percent fewer prescriptions for hydrocodone in medical marijuana states than there were in non-medical-marijuana states.
States with regulated medical marijuana dispensaries had more than 3 million fewer prescriptions for opioids filled annually under Medicare Part D than states without medical marijuana.
Other Studies Have Shown Evidence Marijuana Could Combat Opioid Epidemic
Another study conducted in 2014 found that medical marijuana states had nearly 25 percent fewer deaths from opioids than states without medical marijuana. And yet another study conducted by Ben-Gurion University in Israel found that medical marijuana is safer and more effective for elderly patients.
The Israeli study also found that more than 18 percent of patients had stopped using prescription opioid painkillers after using medical marijuana or had significantly decreased the dose, and almost half of the patients reported their pain was cut in half after 6 months of medical marijuana treatment.
Sessions Should Be Terrified of Fentanyl, Not Weed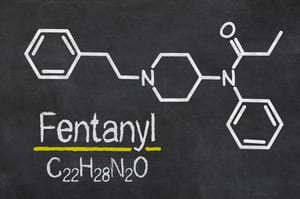 The studies found that fentanyl prescriptions decreased 8.5 percent under Medicare Part D in medical marijuana states. Bradford said that the drug is a synthetic opioid that is at least 50 to 100 times stronger than heroin or morphine, and doctors are legally prescribing it despite the fact that even a tiny amount of fentanyl could result in death.
Harvard Medical School professor and Beth Israel Deaconess Medical Center psychiatrist Dr. Kevin Hill said that prescription opioid painkillers are over-prescribed and that people are dying daily. He added that it is too easy to get an opioid prescription, which results in more addicts.
Bradford said that although people may be afraid of the consequences of marijuana legalization, they need to worry about the imminent threat of the opioid epidemic to the nation. Bradford said that he understands Attorney Jeff Sessions is skeptical about marijuana, but that "The attorney general needs to be terrified of fentanyl." Fatal opioid overdoses due to fentanyl doubled last year in the United States.
Washington, D.C., and 29 states currently have legal medical marijuana.