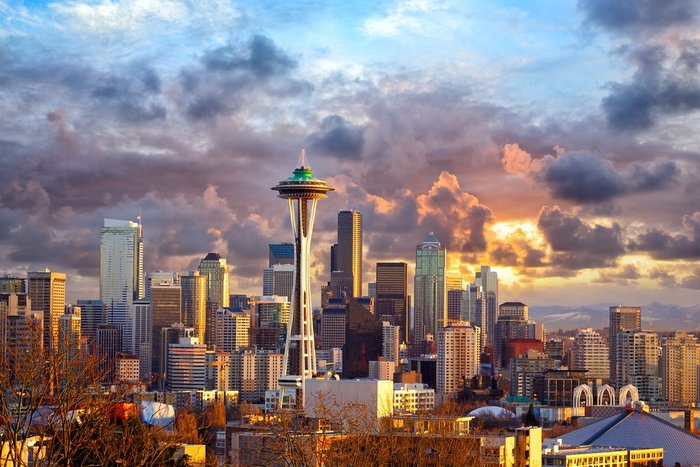 It's a cool Saturday evening in Seattle, and the year is 2050. You're fresh out of Grandaddy Purple, so you head out to the local Safeway supermarket to buy a fresh ounce of bud. There's a little dispensary in the corner of the market, next to the pharmacy. After browsing through a selection of buds, edibles and concentrates, you decide to go with the Beast Mode OG strain in honor of tomorrow's event. The Seattle Seahawks are appearing in Super Bowl 84, and a strain dedicated to their Hall of Fame running back Marshawn Lynch is the perfect way to get lit for the festivities. There are plenty of less expensive options for weed, like Marlboro's pack of pre-rolled Sour Diesel joints for just $100 (there's been a lot of inflation since 2017), or the Nestle Swiss Bliss indica for $150 an eighth. Still, it's worth it to pay a little extra for a craft strain so you shell out the additional cash and leave Safeway with an ounce of heaven.
When the morning comes, you make a fresh batch of cannabis French toast. The CannaToast brand is clearly the most popular in the country, but you're a fan of 420 Toast. Unfortunately, there is none left in the refrigerator. No worry; Amazon's drone delivery service can solve that problem in a matter of moments. You pull up the Amazon website through your iBrain and order two packages of 420 Toast through telepathic messages. Amazon then debits the charge from the CannaCash app — which most people in 2050 have downloaded into their iBrain — and prepares a drone to send the treats to your skyrise apartment, hovering about 600 feet above the Space Needle.
The 420 Toast is a perfect start to Super Bowl Sunday.
There's a long day of sports watching ahead. At around noon you start watching the Seattle Haze game. The Haze were an NBA expansion team in 2025, and they've won three championships since the start of their existence. On the front of the Seattle Haze Jersey is a giant bud of Purple Haze. They were the first professional sports team to use cannabis in their logo, and it's become one of the most recognized jerseys in the country. Of course, cannabis and pro sports are nothing new. The Seattle Mariners baseball team have been showing ads for local dispensaries on their jerseys for more than twenty years, and there are plenty of billboards for cannabis sponsors in all Major League stadiums. Since the big leagues made cannabis legal, pot smoking has become a customary event at all games. There are designated sections in the crowds that allow toking, and sometimes the players stay after the game to toke and joke with fans.
After the Seattle Haze game, you take your dog out for a walk in the Fremont district. It's now one of the richest neighborhoods in the United States, averaging 1.5 artificial intelligence robots per person. The view from Gas Works Park is amazing; you can see the hovering city that stretches about one mile above ground, watch the flying cars and boats pass above Lake Union, or just do some people watching, or robot watching. You find a tennis ball to play fetch with the dog, Sammy. After a couple of throws, Sammy turns on his Dog Translation Device to tell you that he prefers to play with a stick rather than a tennis ball. You say sure, but your arm is tired so you tell your robot assistant Daniel to assume the responsibility of playing fetch with the dog while you walk over to the Cannabis Cooks food truck (on the edge of Gas Works Park) and buy a hot dog infused with Kanye Kush.
It's almost game time so you get on your hoverboard and start heading over to the Super Bowl party. Your friend says some extra snacks are in need, so you stop at a vending machine in Queen Anne and have it cook up some fresh cannabis Buffalo Chicken dip. You also order a 12-pack of Long Island Cannabis IPA through Amazon Prime. It's a microbrew from New York, so it might take until halftime for the cross-country drone to deliver it. Not a worry, because there's plenty of Bud Green to keep the party going until then.
When the game starts, you put on your Microsoft Xperience virtual reality headset and attach 11 sensors around your body. You decide to sync up your Xperience with Tim Tebow Jr., the star running back for the Seahawks. You'll see the game through his eyes, and feel the game through the sensors. You sustain every bone-crunching hit as if it's actually you running along the gridiron, evading defenders and finding the end zone. It's an incredible way to watch football, but it can certainly be painful. It's a good thing there is plenty of Bud Green on ice to relieve the pain of all the blocking and tackling!
This year's halftime show is where it's at. The 27 Club is performing a tribute to all of the famous musicians that died at 27 years old. There will be fully functioning holograms of Kurt Cobain, Jimi Hendrix and Janis Joplin singing their hit songs. Jim Morrison's hologram will also make an appearance to discuss his predictions for the second half. The show is sponsored by Kool Kannabis, so there will be plenty of heady imagery to go with the laser show. Everyone in attendance at the Super Bowl was given a free bong inscribed with the Super Bowl logo to commemorate the event, and they will all be asked to light up during "Smells Like Teen Spirit" and engulf the stadium in a cloud of smoke. It will be a wondrous moment, and you're stoked for the spectacle.
After the game ends with a Seahawks win, you jetpack over to the Canna Bar in Pioneer Square to celebrate the victory over some buds and beers. Your best friend Kenny, who moved to Chicago in 2044, wants to get in on the party. He sets his Microsoft Xperience to put him inside the room at Canna Bar, and suddenly he's conversing with people that are physically at the pub and you can't tell the difference. You tell Kenny that you were synced up to Tim Tebow Jr. during the game. He was actually synced to Tom Brady (yup, he's STILL playing in Super Bowls in 2050), and he said the seven sacks are going to leave a few bruises tomorrow morning. No matter, he'll just stop at the charging station on the way home and pick up some hemp oil topicals to soothe the aches and pains. He needs to recharge his Google Stingray flying car anyway, so he can plug in for a few moments as he's searching the inventory in the snack shop.
Tomorrow is another day. Your internal alarm clock wakes you up at 8 a.m., and you walk over to Starbucks for a nice wake-and-bake cannabis coffee. You're a little bit late for your 10 a.m. meeting in Japan, but Alaska Airlines has international flights leaving every 15 minutes so if you hurry you can get to Tokyo by 10:30. You get to the airport, buy a ticket and take a seat on the plane. Your iBrain goes into sleep position so you can get a quick nap in as you fly over the Pacific Ocean. The Super Bowl memories from the night before uploading into the cloud so that Microsoft Xperience users can access them for the rest of eternity.