Marijuana is now legal in 29 states plus Washington, D.C., and with the stigma fading, many people are wondering how much money can they can earn working cannabis jobs. The marijuana industry is one of the fastest-growing markets in the United States, and scientists are in demand. They are also getting paid quite well.
CNN Money reported that one of the most in-demand cannabis jobs available in cannabis right now is for master extractors. Being a master extractor requires a familiarity with engineering and a PhD in biochemistry. The marijuana industry is currently paying master extractors an average of $250,000 annually. Master extractors extract CBD and THC from hemp and cannabis plants to make concentrates, oils, and edibles.
Where Science and Cannabis Converge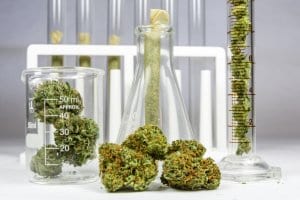 The CEO of Acme Elixirs, Peter Pietrangeli, said that even though the salary is high for master extractors, it is hard to hold on to employees "because after a while they'll get the funding to build their own labs."
And who could blame them?
Forbes reported that the marijuana market will be worth $22.6 billion in 2021.
Entry-level salaries for marijuana cultivators start around $40,000 a year. Pharmacologists can make the same amount of managing a marijuana dispensary and can make around $100,000 managing a chain of dispensaries. Botanists' salaries start at around $60,000 annually and can increase to more than $100,000 after a few years' time. No degree? No problem. Marijuana dispensary managers are earning $75,000 annually, and that's before benefits, bonuses, and perks.
College for Cannabis Jobs!
Scientists with expertise in DNA technology are sought after to create and enhance cannabis stains with cultivators, and some institutions of higher education are taking notice. Northern Michigan University has joined the weed bandwagon and is offering students a Medical Plant Chemistry degree.
Students at NMU will learn about extracting the chemical compounds from cannabis plants for making recreational products and treatments that can be used for people suffering from epilepsy, glaucoma, pain, and other conditions. The bachelor's degree program includes biology, chemistry, botany, finance, marketing, and horticulture.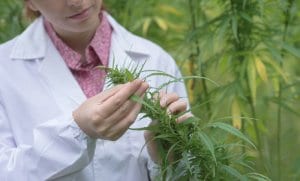 The University of Denver, Vanderbilt University, and Ohio State University are also offering classes on cannabis laws and policies, and even Harvard offers a class called Tax Planning for Marijuana Dealers.
Some schools are specializing in all things cannabis in legal marijuana states. Cannabis College, Oaksterdam University, and Humboldt Cannabis College are colleges in California that are training facilities for entry into the cannabis industry. Colorado also has marijuana industry training colleges that include THC University, Clover Leaf University, and Grow School.
An Industry of Growth
New Frontier Data estimates that the weed industry will create at least 250,000 cannabis jobs in just two short years. According to reports from the Bureau of Labor Statistics, that is more than any government, utility, or manufacturing jobs being created in the same time period.
Estimates put the marijuana industry's revenue from last year above $7 billion, and expectations for medical marijuana sales and recreational sales combined are more than $22 billion by the year 2020.
So, if you were thinking about getting a cannabis job, now's the time to go get one!