Puerto Rico Legalized Medical Marijuana (Finally!)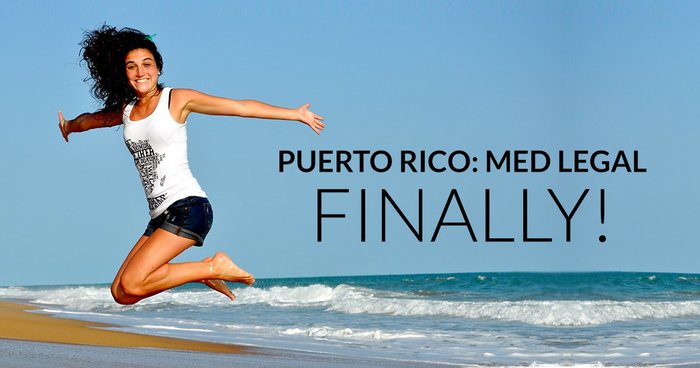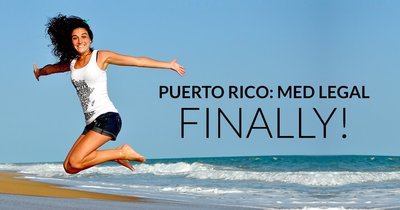 If you've been keeping an eye on worldwide cannabis news, you probably noticed that Puerto Rico has been trying to establish a usable medical marijuana program since the beginning of 2015. Finally, after all this time since they initially prepared for medical marijuana, Puerto Rico has legalized medical marijuana and has already opened a few dispensaries.
After two long years, Governor Alejandro Garcia Padilla put regulations in place to allow for legal cultivation, manufacturing, and distribution of medical cannabis products on the U.S. territory of Puerto Rico, the first territory to allow for a medical marijuana program. As of December 30th, two dispensaries opened their doors on the island, and over 2,000 applications have been sent into the Puerto Rican health department by consumers seeking access to medical marijuana. Here's how it all went down.
What Took So Long?
Basically, people in Puerto Rico have been advocating for medical marijuana for over two years. He problem was with Governor Alejandro Garcia Padilla. The Puerto Rican government has been debating whether or not to legalize medical marijuana for a while. There were a ton of back and forth debates that ultimately ended with no progress for or against the legalization of medical marijuana. However, this last long drawn-out debate ended with Governor Alejandro Garcia Padilla signing an executive order to authorize the use of medical marijuana in the U.S. territory. This decision surprised just about everyone, including the people who have been advocating for the legalization medical marijuana in Puerto Rico since the beginning.
Governor Garcia-Padilla said in a statement to the press:

"We're taking a significant step in the area of health that is crucial to our development and high expectations for their quality of life. I am sure that many patients with receive appropriate treatment that will offer them new hope."
One of the biggest arguments for Puerto Rico legalized medical marijuana had to do with simple facts. Looking at the 23 states that have already legalized medical marijuana showed a promising potential for the future of Puerto Rico. Statistics show that medical marijuana lowers violent crime rates and boosts the economy, both traits are important to Puerto Rico.
Jamaican Influence
Puerto Rico was also impressed with the aftermath of a medical marijuana program in Jamaica. The people are happy, the state is happy, and the major decriminalization measures taken in Jamaica have allowed for scientific research, a new regulated marijuana market with licenses and permits, and it allows people to use and possess cannabis for specific purposes.

On April 20th of 2016, a rally was held where medical marijuana advocates marched on the capital of San Juan and demanded legalization talks would be held. The march demanded that not one more person be imprisoned in Puerto Rico for consuming marijuana, a habit that in the Caribbean island is in the process of decriminalizing. It's believed that the overwhelming support for marijuana during this rally is what tipped the scales in favor of legalizing medical marijuana.
The measure wasn't passed without a few sticks in the mud, though. The most noteworthy and vocal opponent of legalization measures were brought up by the Puerto Rican speaker of the House of Representatives, Jenniffer Gonzalez. She raised concerns that legalizing medical marijuana would leave the law in "judicial limbo," because of the state the United States are in at the moment.
Currently, marijuana is illegal and controlled at the federal level, but the states are still deciding that marijuana is okay and decriminalizing it in state jurisdictions. She was afraid that this legal grey-area would cause a power struggle.
However, the President of the Puerto Rican House of Representatives, Jaime Perello, voiced his support for medical marijuana:

"The authorization of the medicinal use of controlled substances or components derived from the cannabis plant seems like a step in the right direction. It has been shown that the use of these substances or components in a controlled manner, can support traditional medical treatment of some chronic medical conditions, such as cancer and multiple sclerosis. One benefit most patients report is the relief of physical pain, which represents an improvement in their quality of life."
What Are the Regulations and Who Qualifies?
There are several conditions required to qualify for the Puerto Rico legalized medical marijuana program but, as always, the devil is in the details. While a medical marijuana program is in place, there are limitations to what exactly can be grown and purchased, and by whom the purchases can be made. The program isn't nearly as flexible as the one we have in place here in Colorado, but it's definitely a step in the right direction.
Basically, the executive order allows the Puerto Rican Health Department to allow for medical use of "some or all controlled substances or components of the cannabis plant." It was also outlined that Puerto Rico's secretary of health must produce a report in 90 days to outline how to get the thing off the ground. Allowing cannabis to be grown for clinical trials was also included.
Medical cardholders in Puerto Rico will be allowed to use medical marijuana in pill form, topicals, oral tinctures and patches. Smoking marijuana isn't included, however. Smoking marijuana and cultivating your own product will still be against the law in Puerto Rico, which was a let down for many, but still a step in the right direction. However, the Governor made it crystal clear that his administration's absolute lowest priority is prosecuting possession related criminal offenses. To view a list of Puerto Rico's qualifying conditions, click here. 
Puerto Ricans seeking alternatives with medical marijuana must be diagnosed with any of these conditions by a practicing physician in order to qualify.
Why Does It Matter?
The medical marijuana plan in Puerto Rico is also designed to help out the economy first and foremost. The regulations make it so that all medically prescribed cannabis products must be grown and produced on the island. Many see this as an end to the crippling debt problem Puerto Rico has been experiencing for many years. The plan is to keep Puerto Rico's medical marijuana industry in the hands of her people. All operating businesses should be privately owned and operated by the residents of Puerto Rico. They're hoping that the program will help eliminate the looming $70 million dollars in public debt.
Puerto Rico joins many other Caribbean islands that are making or have made cannabis reform their highest priority. Other islands looking at marijuana reform include Jamaica, the Cayman Islands, Antigua, Costa Rica and Barbados. Aside from tourism and a few exports, islands like these can really capitalize on the financial potential of medical marijuana. Medical marijuana is going to offer the possibility of relief for people that need to improve their quality of life. Not only will it benefit the people, it will make it possible for people to have access to marijuana grown at home instead of smuggled from foreign countries.
Basically, it's going to benefit almost every aspect of Puerto Rico's current system, from crime, to the job industry, to boosting the economy.
Either way, it's a step in the right direction for Puerto Rico and her people, and we're very excited to see how long it will take from this initial push to legalize recreational marijuana.